It's good game to other gaming brands, better watch out for Armaggeddon hor. Armaggeddon is a Singaporean brand that specialises in gaming gear for professional gamers. You probably would had noticed their products being sold on our little island. After all, their yellow logo is quite distinct. But how exactly did Armaggeddon came about? We've interviewed Wanda Hu, the founder of Armaggedon to answer these questions and more.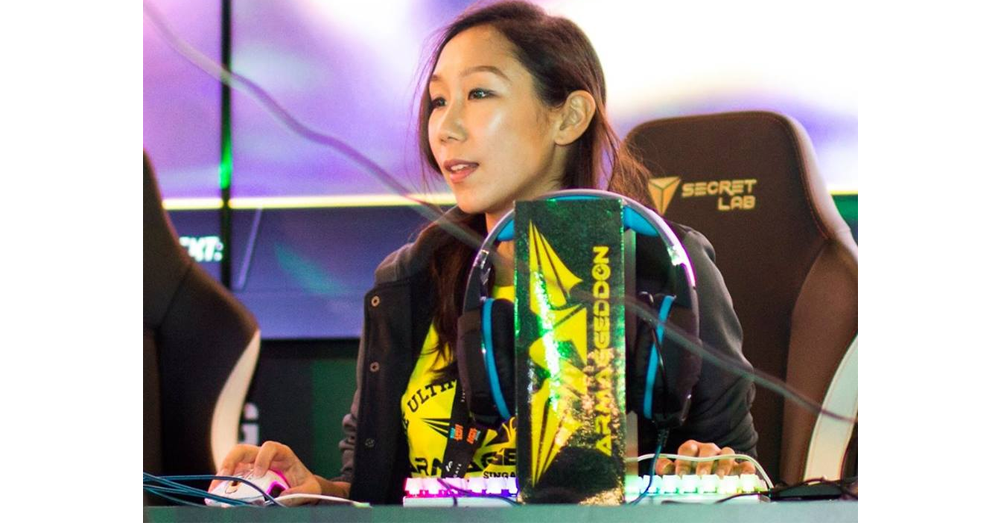 What's the story behind Armaggeddon's unique name?
Armaggeddon's unique name arises because of the double 'g'. Short for 'Good Game', it's a commonly used abbreviation used at the end of a game. We wanted to relate this meaning to Armaggeddon's first product, the Armaggeddon A7 gaming speaker which was the mother of all PC gaming speakers during its reign in the industry
What led to the start of Armaggeddon ah?
I was poor student in uni who struggled to pay off a uni loan and buy textbooks (sometimes I would photocopy from a friend just the sections I need for that month so I didn't have to put money down on a whole textbook at a go). Playing games was a relatively cheap form of entertainment back then for a uni student but buying gaming gear was expensive. Gaming mice started from $60 up to about $200 and I was not going to give up 3-9 months of WoW subscription on a mouse. So when I joined my family business in PC peripherals in 2010, I convinced the shareholders that they should diversify because there was a gap in the market for accessible gaming peripherals with gaming capabilities such as high CPI and/or macro programming for the everyday gamer.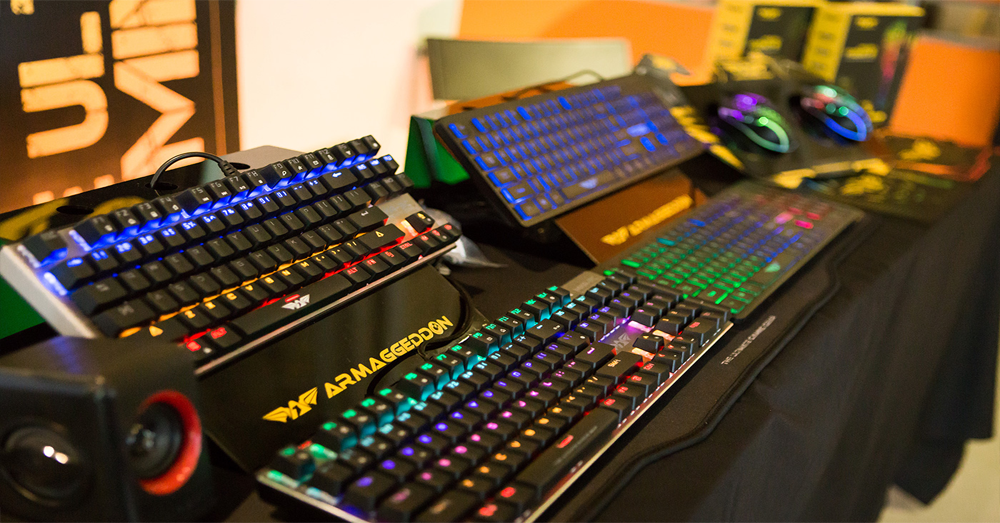 What kind of difficulties did you face while developing the first line of Armaggeddon products?
I was lucky in that my family business has been making audio and PC peripherals for the last 18 years. We have many partners who create PC peripherals but back then there weren't many who were experienced with gaming peripherals and it took a lot of product research and garnering feedback at the same time to tune our first series of gaming peripherals. During the developmental stages of Armaggeddon, I spent hours in LAN shops with our DOTA team, until the wee hours of 4am before heading to work at 9am in the morning to report on our latest findings and translate them into product changes. I spent 7 years of my life studying retail and business marketing, it was a hard switch to make to study products and read specification sheets after specification sheets about different sensors, chipsets, components and materials to understand and make good decisions which I deemed to be best for our products and in turn the gamers.
Last time right, when Armaggeddon first launched, how did Singaporeans react to the idea of purchasing a local gaming peripheral brand? When compared to today, how has the reception changed?
When we first started I had so many opinions from customers, business partners, friends about us pushing our local identity. Most of it was along the lines of 'why don't you set up a office in the US/EU and say you're from America/Europe and become famous there before selling in Singapore. That's what everyone does what'. So yes, it was tough, because we've always been loud and proud about being Singaporean and there was indeed a time when it was thought to be silly to do so.
Over the years, I think people have come to learn why it's important to support the local brands, regardless of industry. Local companies are the most likely to spend money within the country and because a lot of their operations are local, they generate more jobs and generally benefit everyone in the local ecosystem. If we don't support our local brands, who will?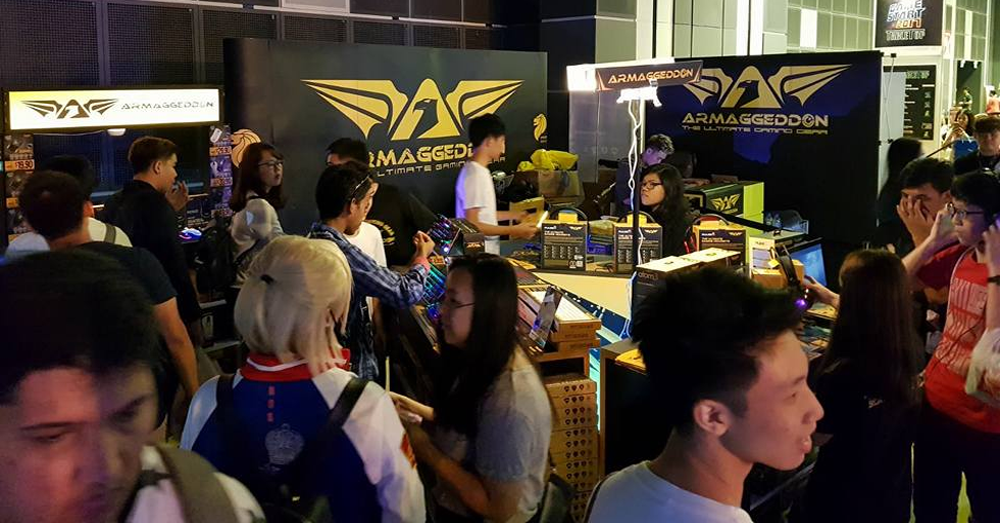 What kind of responses from Singaporeans have you received when you tell people that you founded a company that sells gaming peripherals?
It's not something I go around telling everyone about? But when I do, a typical response would be "Wah, then I buy gear got discount not". In the earlier years, sometimes it'd be "Wah, got girls who play game meh", but thankfully that's a lot less frequent now.
Being a corporate woman in esports is quite rare hor, did you face any difficulties in expanding Armaggeddon because of your gender? How did you face and overcome these difficulties?
Yes. Growing Armaggeddon has always been a challenge. The corporate world in PC peripherals is male dominated and most of the time be it my customers or suppliers, they expect the decision maker to be Mr. Hu and not Ms. Hu. It's not uncommon for a potential business partner to ask me to consult a more senior male sales/product manager for advice on matters which I have answers to simply because they do not agree with my decision.
Truthfully, I sometimes use it to my advantage especially in my earlier years. Think of it like playing DPS, it is possible (and usually preferred) to be top damage with minimal agro and that works out for everyone in the party. I have on occasion let my male team mates tank negotiations for me whilst I bargain and insert demands for what I think is best for our products/brand and it all works out for the best.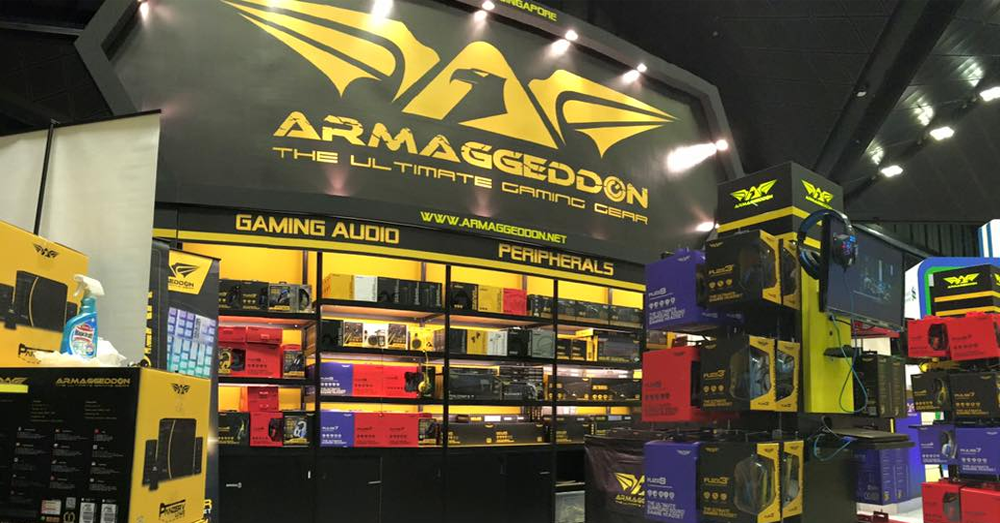 Got what difference between Armaggeddon when compared to other gaming peripheral brands?
We're a lot more functional. We manage our costs very tightly so that our customers do not have to pay for things they do not need.
Do you often get compared to Razer?
All. The. Time. It's only natural though, they are the oldest name in the gaming peripherals industry after all.
What are the next plans for Armaggeddon? Do you plan to invest more in esports or continue working on other products ah?
Currently for 2018/19 we're very focused in our product development and collaboration with gaming events such as GameStart Asia for South East Asia. We're launching 4 new models of headsets and I'm currently fine tuning our mice and keyboards range to better cater for the semi-pro/pro gamers. We've always been about growing communities and creating gaming experiences and in 2018/19 we'll be bringing the Armaggeddon x GameStart experience to Indonesia and Malaysia.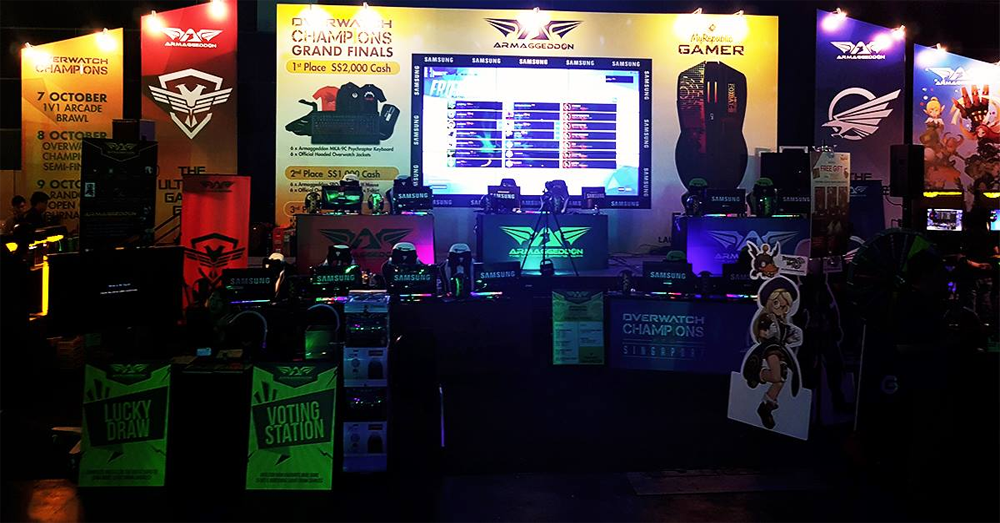 What do you think about the esports industry in Singapore?
2018 Singapore esports looks fragmented. Too many companies and organizations wanting to jump on the esports bandwagon without looking far enough into our history to learn from past mistakes in order to plan for what's ahead. It's growing but it's definitely very fragmented and unnecessarily so. I strongly encourage new entrants to do more homework and look into existing teams/organizations and leagues and considering working with them before deciding on doing something from scratch.
I think the esports industry does not need Singapore, but Singapore needs the esports industry. Our neighbours in the region are doing good work and many of them like Philippines/Thailand/Malaysia are closer to becoming the regional hub for esports in South East Asia, than we are. Esports viewership numbers have already exceeded those of mainstream sports in many countries and Singapore should aim to become the regional hub because we have the capabilities and it is beneficial for our economy and ties with our neighbours in this region.
Are there any esports teams that Armaggeddon supports or sponsors?
We do support a few in South East Asia, including Knightress (League Of Legends, Singapore), Borneo Dragons and WOW (Mobile Legends, Malaysia) and Flash Vision (Fighting Games, Malaysia).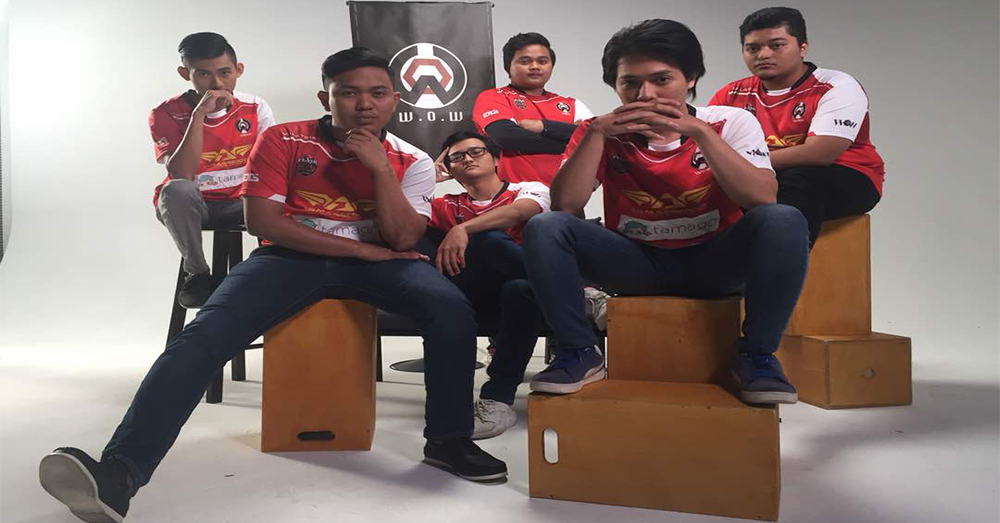 Do you have any advice for women who want to join the gaming industry?
There are many male dominated industries and the gaming industry is no different. Assuming your interest stems from loving games, what you experience in-game when people communicate behind a screen is quite different from being in a business environment in the industry. Feminism is a common topic of conversation within the gaming industry and I think that in itself already makes it much better than many others where gender inequality isn't talked about. There is nothing to fear and so be fearless.
Come into this industry with an open mind. For men and women alike, don't join us thinking you're going to play games all day. Join us because you love games and because you want to improve and provide the best possible experience of the thing you love most using the skills you are best at.