As I stepped through the glass doors to Resurgence's headquarters, I bore witness to a flurry of activity. Members were busy with their laptops. Some were spectating matches with lazer focus, others were tapping away on their keyboards while simultaneously engaging in light banter with their neighbours. Nestled in Woodlands, the general vibe within the HQ is that of understated focus beneath a sense of easy-going calm.
Resurgence has been very busy building their legacy. Revenant will be flying the Singapore flag at the 18th Asian Games under the Starcraft2 banner, scoring 3rd place for LOL in Globe Conqueror Manila, establishing new competitive teams for Dota2 and Fortnite, and having Sequinox, Katsucurry and Crumpled qualify for the Hearthstone Global Games.
Which brings us to the purpose of our visit, to talk to Sequinox.

RSG.Sequinox
While it might be said that Sequinox is arguably one of Singapore's best in Hearthstone, he has none of the airs that you would associate with such a heavy-weight. In my interactions with him, I found his responses while candid, are measured and well-thought out.
Sequinox has always been into trading card games. Being the kind of competitive spirit that he is, it was a no-brainer that he would pick-up Hearthstone competitively to see how far he could go. Judging from the looks of things, Sequinox is doing well enough to turn e-sports into a full-time profession with Resurgence, at the expense of postponing his university education. With Singapore being what it is, that requires a huge dose of courage and conviction.
The HCT Fall APAC Playoffs Debacle
During the recent HCT APAC Fall Playoffs decider match for top 4 between Sequinox and Akumaker, Game 1 was won by Sequinox and then invalidated by Blizzard. Blizzard's claim was that both players had an unfair advantage as they were able to hear casting commentary via their headsets, due to a "technical error". A remake was decided on without player consultation and lead to Akumaker winning Game 1. This resulted in costing Sequinox the entire series.
Here are some of the details, blow-by-blow:
Akumaker was playing in Australia while Sequinox was playing in Taiwan. During the course of the Game 1, Akumaker's admin claimed that Akumaker's headset had live casting commentary, playing through it. The admin reported the matter to the Blizzard observer after Game 1 (which Akumaker lost) concluded.
Akumaker was plugged into his own earphones and was not wearing his headset.
Blizzard observer made a judgement call and invalidated the results of Game 1.
Sequinox, still unaware of the invalidation, was waiting for Game 2 to commence. He messaged chat to find out what's with the hold-up. He was then told by the Blizzard observer that Game 1 had been invalidated due to a "technical error". There were no further details given.
Sequinox motioned for his admin to read the chat. The admin then checked Sequinox's setup, verified that the headset was working as intended and reported it to the Blizzard observer, only to be told that the decision to invalidate Game 1 was final.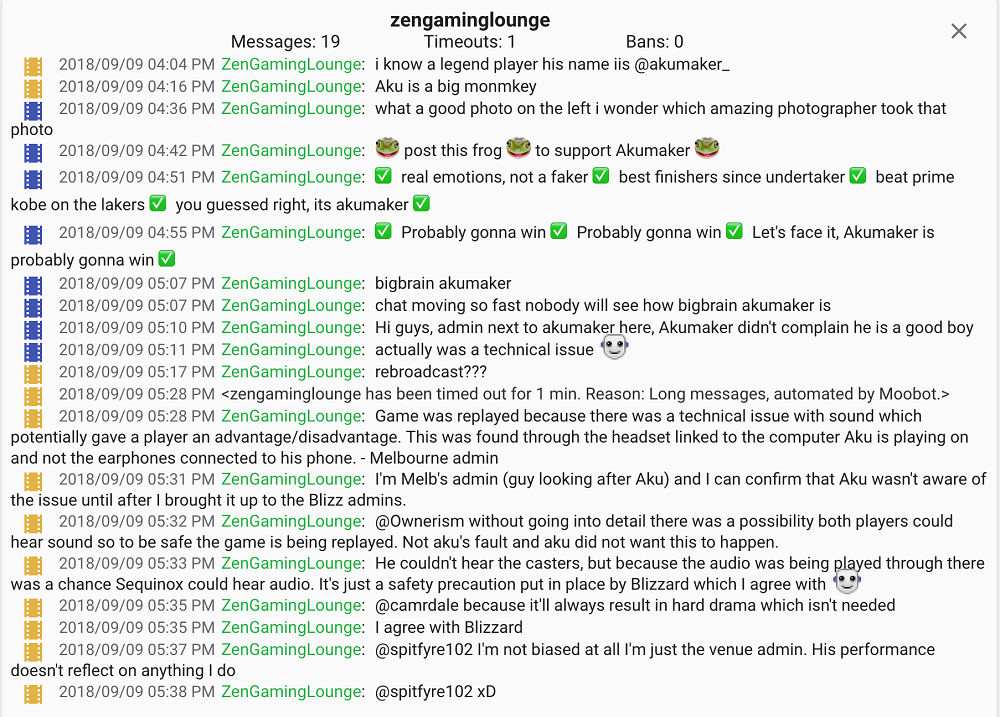 To complicate matters further, chat logs didn't do the australian admin any favours. Even the chatbot had to put the admin on timeout. Initial perception is that the australian admin is rooting for Akumaker to win, and that's questionable as admins also are supposed to be impartial and objective.

The Fallout
Understandably, people were extremely indignant about the decision to invalidate Game 1.
Resurgence was upset enough to send an official letter of complaint to Blizzard.
Blizzard presumably only considered input from the australian side. No effort was seen to be made in apprising either player about what happened, other than a very vague "technical error" justification. Having an admin play cheerleader further complicated the matter.
Ironically, Blizzard's decision to invalidate Game 1 was motivated by their intent to preserve competitive integrity. However, due to poor communication across all parties, the decision seemed less than transparent.
From a macro perspective, it's clear that there are no winners in this.
It's going to be difficult for interested parties to shake the feeling that Sequinox was robbed. Akumaker's victory was also diminished by this controversy.
In retrospect
In response, Blizzard put out an official clarification via their community forums. Which is great because other than Sequinox and Akumaker, there are a good number people that are emotionally invested in finding out what happened.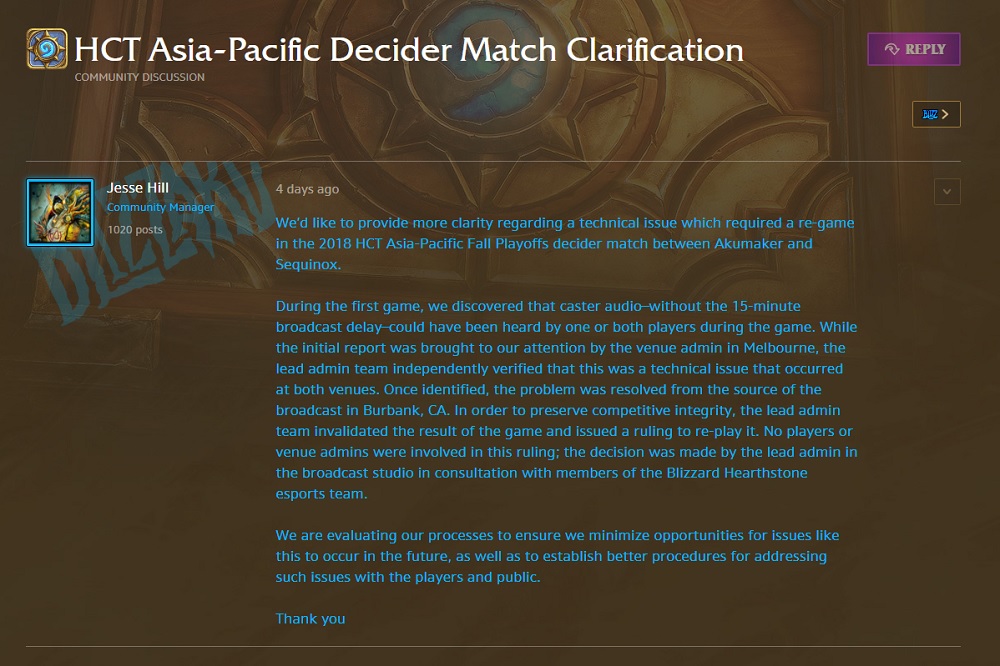 What's not so great is that Blizzard's response focused heavily on the "technical error" aspect. They did not sufficiently address the issue of poor communication between themselves, and the players whom the decision to invalidate had the greatest impact on. The question of why Blizzard didn't see the need to solicit feedback from both venue admins, before making that final decision, has become the proverbial elephant-in-the-room.
It was a wasted opportunity. Had Blizzard addressed those issues out in the open, they could've recouped lost confidence from the community. It's a shame that they chose not to.

Sequinox's future plans
For Sequinox, he's not letting this controversy dampen his love of Hearthstone. In his words, he's managed to accomplish some of the things that he had set out to do. He's moved on and focusing on his new goals at competitive playing. It's obvious that he understands the need to keep moving forward and maintaining that focus on winning. Really looking forward to seeing him win big at future tournaments and flying the SG flag.
If you can't get enough of Sequinox, catch him on his Twitch channel.
All views expressed in the article are the writer's own.