Check out our interview with Zanthel aka Vampyrette who is currently the content manager at Resurgence.
Do introduce yourself to our readers. [Who are you and what is it you currently do in relation to gaming]
Hey there! Before working for Resurgence as a content manager, I was managing Dota 2 & Overwatch competitive teams. I'm an avid gamer myself and I started my gaming journey about 8-9 years ago.
I've stuck with my IGN 'Vampyrette' all these years.
How did you first get started into playing games?
Back in those years, teenagers' hangouts are likely to be at a shopping mall or a LAN shop. My clique often played Dota there and introduced me to the game. I played casually, before playing a little way too much
and involved myself in the competitive scene.
Why did you decide to pursue a career related to gaming?
It started from helping my friends to register for local tournaments, to helping them deal with issues or conflicts in and outside of games. I love attending events and started saving up to experience major tournaments like
Dreamhack, The International and Manila Majors. I was immersed in the atmosphere, I fell in love with all those emotions, the glorious stage and all things behind the scenes.
The community has its bond and fair share of toxicity but to be able to work in an industry built up from passion, it's quite a blessing.
You're currently working as a manager at Resurgence, tell us more about your job. What are your responsibilities and what is your daily working routine like?
As a content manager, social media is just half of it. My job is to tell stories, to build a library for players' esports journeys and help them share it to aspiring players. These stories aren't just about the glorious esports stage but the struggles behind each players' life while chasing their esports dream. I wish to show audiences, fans and people who are not familiar with esports the hard work, failures, determination and passion of our esports athletes.
How tough has it been working in the gaming-esports industry, especially considering that this industry is typically male dominated?
I believe that people who have touched on these topics comes out with similar answers cause it is what it is. There are times where we play extremely well and people are skeptical, there are times when we achieve something great and people are doubtful on how we achieve them. Both male and female (in the scene) have their share of drama. There will always be 'black sheep' and false representation but there are also supportive communities out there working to help female players or competitive gamers feel welcomed and supported. Yea I can talk about how all gender can work hard and achieve in esports at a high level but to be very honest, I'm too lazy to fight this fight, I'll do my best to let my work show.
What are some of the biggest hurdles you have faced while working as a manager in esports?
During the years as Singapore esports is only starting to get exposed to global stages and rising opportunities, tournaments do not feel the importance of having a manager/coach yet, so they will never account a slot for them at tournaments. Those players were young, inexperienced and many of them have never traveled (esp for LAN tournaments) I often forked out of my own savings for flight and accommodation to take care of the players and be ready to help them handle unforeseen circumstances when they are there (there are many, many unfortunate/unexpected possible situations). Managing a group of people is tough, in general. Their mentality, emotions and even physical health have to be kept in check constantly and I think that's once of the most draining part of the job.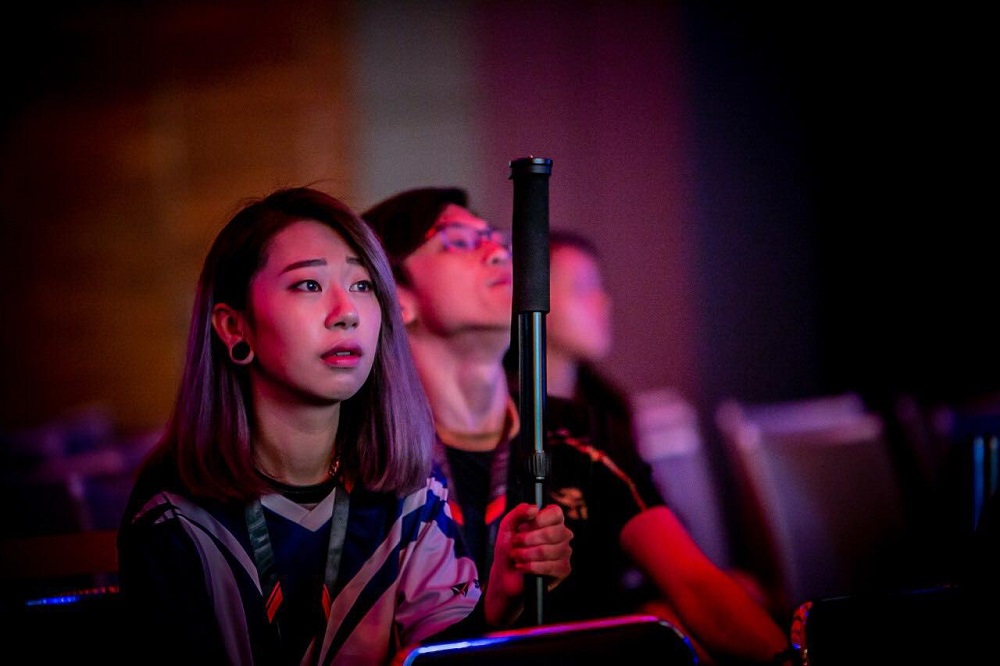 What are your opinions on the current state of the esports scene in Singapore?
Esports is ever-growing. Singapore may have its struggles in this industry due to its size but there is no doubt that we have passionate talents in the pool. With great infrastructure and experienced veterans in the field, I believe that we'll be able to bring the scene to the next level. Every single one of us plays a role; the people who groom these players, driving them in the right direction, the players who are disciplined enough to pave their way in the competitive world, the owners who understand ways to push the growth of the market and the fans/audiences who pump in all that energy into the community.
In what areas of the esports scene in Singapore do you feel could use improvement?
It's a vicious cycle. We need results to get support. As the competitive standards grow, we need support to achieve better results. Without both, effort declines and it circles back to mediocre results. In short, I wish to see players, managers, owners not let their determination waiver. I wish to see more support from the community and even people not involved in esports. Well one can dream and I think it's imperative we all do our part to ensure rivalries/competitions are kept healthy.
Do you have any words of encouragement for other aspiring Singaporeans looking to be a manager in the gaming-esports industry as well?
We see huge, glorified stages, famous players and VIP treatments on stream and gaming news these days. It's a lie if anyone tell you it's easy. It's a struggle and maybe some got lucky, however, for most of them, some gave up many things for many years and are still working for it. Understanding what you want is important, it keeps the fire burning. I know players who worked so hard and are now playing on big stages, I also know many players who are still trying for a breakthrough. They told me that they never regretted it despite the tedious(some even call it tormenting) uncertainties because through all that, they still really love what they do.
These are the people who inspire me.
For the love of God I really do not remember where is this quote from but I really want to share it:
"F**k motivation. It's a fickle & unreliable little dickf**k and it isn't worth your time. Better to cultivate discipline than to rely on motivation. Force yourself to do things. Force yourself to get out of bed and practice. Force yourself to work. Motivation is fleeting and it's easy to rely on because it requires no concentrated effort to get. Motivation comes to you, you don't even have to chase after it. Discipline is reliable, motivation is fleeting. The question isn't how to keep yourself motivated, it's how to train yourself to work without it."
Thank you Vampyrette.