The PVP Esports Award will be presented to up to two exceptional Team Singapore athletes who will be competing at the 30th Southeast Asian Games (SEA Games) in the Philippines, where esports will be an official medal event for the first time in SEA Games history. The award which Singtel and the Singapore Esports Association (SGEA) have launched together to recognize talent and promote excellence in esports. Singtel is also a sponsor of Singapore's SEA Games esports team.
The PVP Esports Award for esports athletes is worth S$10,000 which comprises cash and funds to  support their professional development and learning, and athletic training.
Athletes will be selected based on the following criteria: excellence in performance, commitment to the craft,
and sportsmanship. They will be chosen by representatives from Singtel and SGEA and announced
later this month after the closing of the SEA Games.
"We are pleased that our sponsorship of the Singapore team has enabled the athletes to focus on what they do best and having a shot at winning medals for Singapore. This award recognises their skills and contributions, and represents our commitment to support and celebrate their efforts. We believe they will be excellent
ambassadors for the sport, and an inspiration to others. With the growing popularity of competitive
gaming in the region, we are passionate about developing the gaming ecosystem for professionals
and amateurs alike through our PVP Esports platform." –Mr Arthur Lang, CEO of Singtel's International Group
PVP Esports who are ASEAN's first multi-game, multi-country esports platform was established last year. They started with a professional Championship and this year introduced an amateur esports leagues for gaming enthusiasts, launching the PVP Corporate League for working professionals across the region and the PVP Inter-Campus League for tertiary students in Singapore.
"SGEA is proud to partner up with Singtel in supporting local esports athletes as well as the gaming ecosystem. We believe that Singtel's infrastructure and our industry veterans will enable us to further develop the esports scene in Singapore." – Mr Ng Chong Geng, President, Singapore Esports Association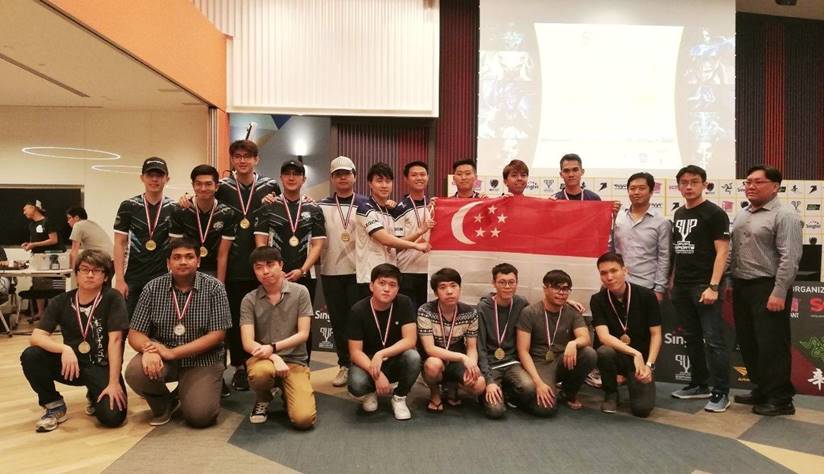 Singapore will field 20 athletes for the six esports games that will be contested as medal sports, namely Arena of Valor, Dota 2, Hearthstone, Mobile Legends: Bang Bang, Starcraft II and Tekken 7. They will be competing against athletes from Indonesia, Malaysia, Philippines and Thailand. The joint award from Singtel and SGEA is part of an ongoing partnership between Singtel and SGEA to groom and develop Singapore's first official cyber athletes. Both parties inked a memorandum of understanding in March this year to provide support for Singapore's SEA Games esports team, including funding for training, competitions and player stipends.
Here are our esports athletes representing Singapore at the SEA Games 2019.
Mobile Legends: Bang Bang
Evos Esports:
1. Akihiro "JPL" Furusawa
2. Andrew "Potato" Lim
3. Boon "OhDeerBambi" Wei Xing Robert
4. Chong "Soul" Ru Chyi
5. Tan "Ace" Zheng Wei
Arena of Valor
Resurgence:
6. Bjorn "Zeys" Ong
7. Dabbie "813" Lim Chin Hong
8. Ng "Elespresso" Ye Lun Renfred
9. Ong "Yueyah" Jing Song
10. Lee "Marclaren" Cheng Hiang Marcus
Dota 2
Team X:
11. Wong "NutZ" Jeng Yih
12. Lukman "Luk" Yusoff Bin Nooraznan
13. Teo "Tudi" Yao Wen
14. Wilson "Poloson" Koh Chin Wei
15. Joel "Chibix" Chan Jian Yong
StarCraft II
16. Toh "Lobo" Wei Liang Alvin
17. Thomas "Blysk" Kopankiewicz
TEKKEN 7
18. Ruslan "LAN94" Bin Abd Rahman
Hearthstone
19. Chew "Khaius" Khai Kiat
20. Benjamin "SGAhIce" Isa Roberts
All the best everyone and make Singapore proud! We believe in you!
Photo credit: Singapore Esports Association