After weeks of qualifiers, the Singapore leg of the PVP Esports Community Championships (Season 1) will culminate in an exciting online event on the 27 and 28 June. Over the weekend, the top corporate and campus teams will battle it out for the ultimate chance to represent Singapore at the Regional Finals in September and a combined prize pool of S$22,000.
In conjunction with the Singapore Finals, PVP Esports will also be rallying the local community as part of its gaming for good initiative to raise funds for Beyond Social Services. 100% of the proceeds will go towards supporting their Covid-19 Family Assistance Fund to aid children, youths, and their families affected by the pandemic.
The live Singapore Finals event will be held online so fans can look forward to exciting esports action and gaming entertainment from the comfort of their own homes. The weekend will kick off with the Corporate Championship finalists on Saturday – featuring MeetYourMorgans 1 (JP Morgan) and DeloitteOne (Deloitte) going head to head for Dota 2, followed by TurretHeist (DBS) and Axomamma's (ST Engineering) fight to the finish for Mobile Legends: Bang Bang. The action continues on Sunday, where 16 qualifying teams from tertiary institutions across Singapore will duke it out for the title of Campus Champion.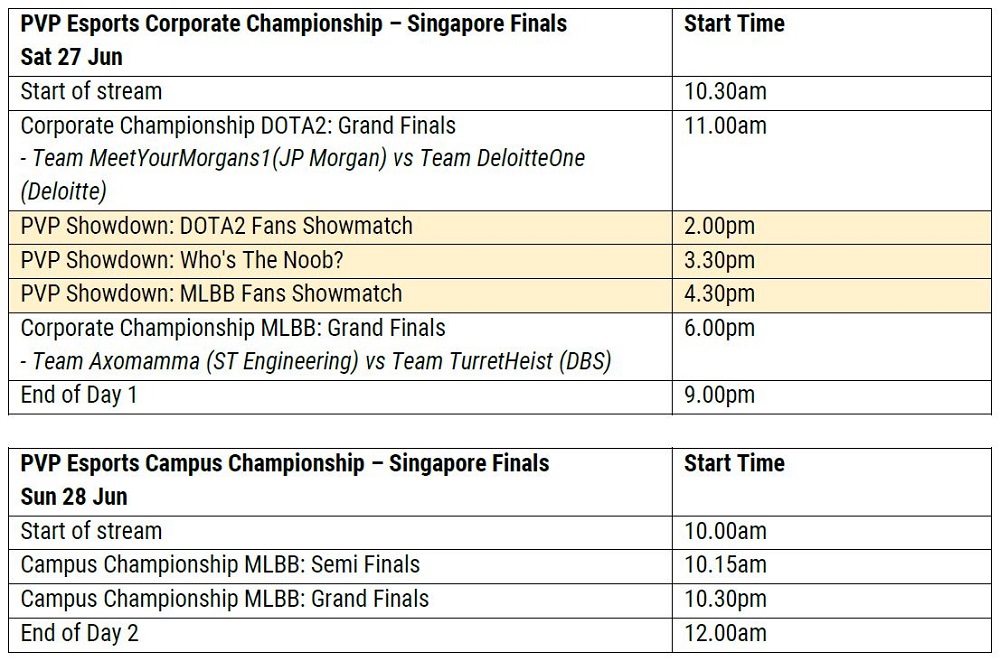 In addition to the esports action, PVP Esports will also be presenting the PVP Showdown, a 3-hour entertainment special on Day 1 of the finals, featuring popular local gaming and esports personalities who will be gaming for a good cause. Fans can test their gaming knowledge as they watch the PVP Dream Team (featuring Street Fighter champ RZR Xian, SEA Games Silver Medallist Thomas 'Blysk' Kopankiewicz and streamer CheeseZu from Asterisk*) go up against YouTube creators NOC Plays in a 'Who's The Noob?' trivia segment.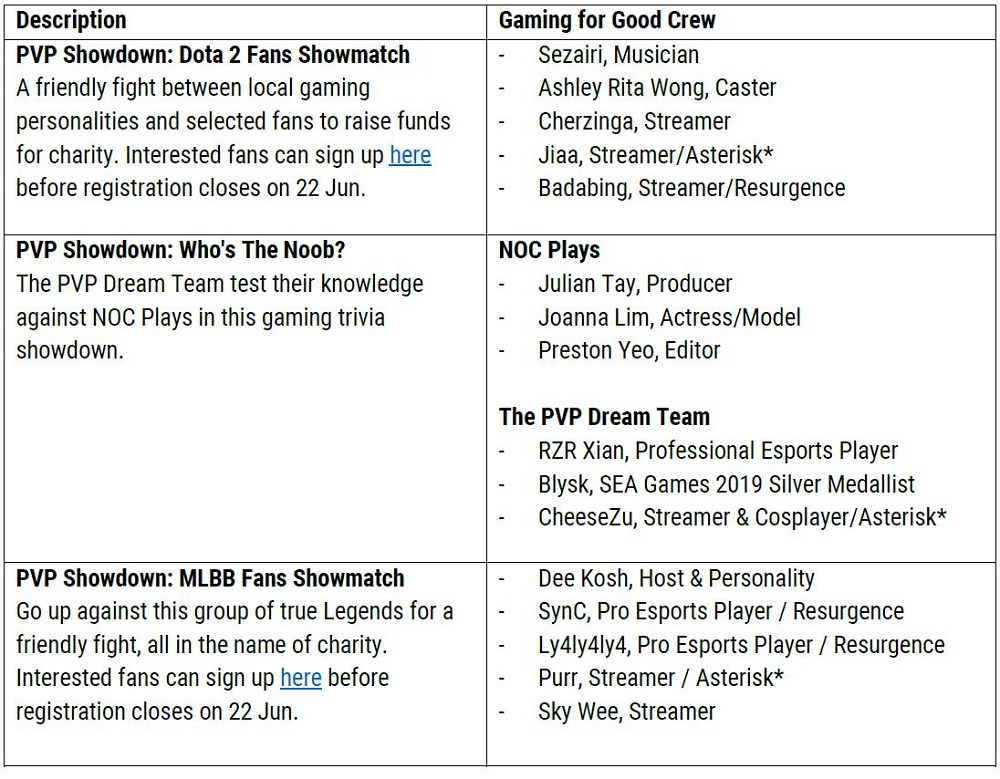 To take it to the next level, fans are also welcome to join in the fun by signing up for the once-in-a-lifetime opportunity to go up against some of their favourite personalities such as Dee Kosh, Sky Wee, Resurgence, Asterisk* and local singer-songwriter Sezairi in Dota 2 and Mobile Legends showmatches, played in the name of charity (full list of participants in Annex B).
Open from now till 28 June, donations to this campaign can be made through Giving.sg. Additionally, fans who sign up for Singtel's Dash with promo code <DASHBSS> will receive S$2 instant Dash credits to channel towards their contribution to Beyond Social Services by using their Dash Visa Virtual Account. Donors will also be entered into a raffle[1] and can stand to win giveaways courtesy of PVP Esports' generous partners including Huawei, Razer, Mobile Legends: Bang Bang, Royale Ergonomics. As a token of gratitude, PVP Esports will also be gifting donors a limited edition PVP Esports sticker pack[2].
Catch the live stream from 10.30am on 27 June and 10am on 28 June at bit.ly/PvPLS, and visit https://www.giving.sg/beyond-social-services/pvp_esports_for_beyond to donate.
So check out, PVP Esports Community Championships on the 27 and 28 June.
[1] Donors will be eligible for one raffle entry with every $10 given. All donors entered into the raffle will not be eligible for tax deductions. Donors who wish to opt out of the raffle to receive tax deductions can email Beyond Social Services at

[email protected]

with PVP Esports in header by 28 June.
[2] Limited to the first 300 donors only.