Singtel kicked off their first foray into the E-Sports realm via PVP Esports Championship from 5th to 7th of October 2018 and we were given the opportunity to check it out!
What is it?
PVP Esports Championship is a multi-title and regional e-sports league that's organised by the Singtel Group. It's a part of Singtel's strategy to grow the gaming and e-sports ecosystem in the region. We were told that the event had over 3,600 teams vying for the US$300,000 prize pool in Dota 2 and Arena of Valor. The event also played host to the Singapore leg of Blizzard's Hearthstone Championship Tour (HCT) grand-prix. Matches were broadcast live across several streaming platforms like Twitch and Douyu, and localised in seven languages – English, Bahasa Indonesia, Chinese, Korean, Russian, Tagalog and Thai.

Special Guest
Singapore's Minister for Culture, Community and Youth, Ms. Grace Fu also paid a visit on the last day of the event. She met and spoke to our local e-sports personalities like Xian and members of Resurgence. All in all I took it as a good indication that the establishment is taking an interest in e-sports and might actually invest in the developing of a sustainable local e-sports eco-system.

Event Experience
PVP Esports Championship is setup across 2 halls. One hall is dedicated to MOBA and FIFA tournaments with spectator seating, while the other is dedicated to HCT. Each hall has a different atmosphere and lighting that is consistent with the theme. For the MOBA side, it's darker with that TI vibe in spades, while the other hall is brighter and warmer with an obvious tavern-ey vibe because… well, it's Hearthstone. The overall presentation and look of the stages were impressive. While we were told that the event saw tickets being oversold by 30-40%, the halls looked a tad empty. In the Moba section, it felt like there were more FIFA players than spectators. The hall for HCT was largely void with the exception of competitors milling about the spectator area. Perhaps it was an odd time for us to be there (about 1:30pm) and on a Sunday no less. Personally it's great for me because I generally can't stand crowds anyway. It's also obvious that Singtel really pulled out all the stops for this event. They specifically flew in a stable of TI hosting and commentating alumni like Sheever, OD Pixel, veteran e-sports host Matt Andrews, just to name a few. They even had a signing booth at the corner of the hall.

Personal Observations
So these are some observations that I've made after summing up my experience from the event and streams.
Twitch Streams
To put it mildly, there have been problems with the quality of the stream on Twitch. I did a bit of 'digging' and found out that Mineski was hired to handle the streaming component for the PVP Esports Championship league. To be honest, this decision is a bit baffling. It's clear that Singtel's aim was to put out a premium show and Mineski streams aren't exactly known for being the best in terms of quality or production. Case in point, the stream for Manila Majors which is also a product of Mineski's work.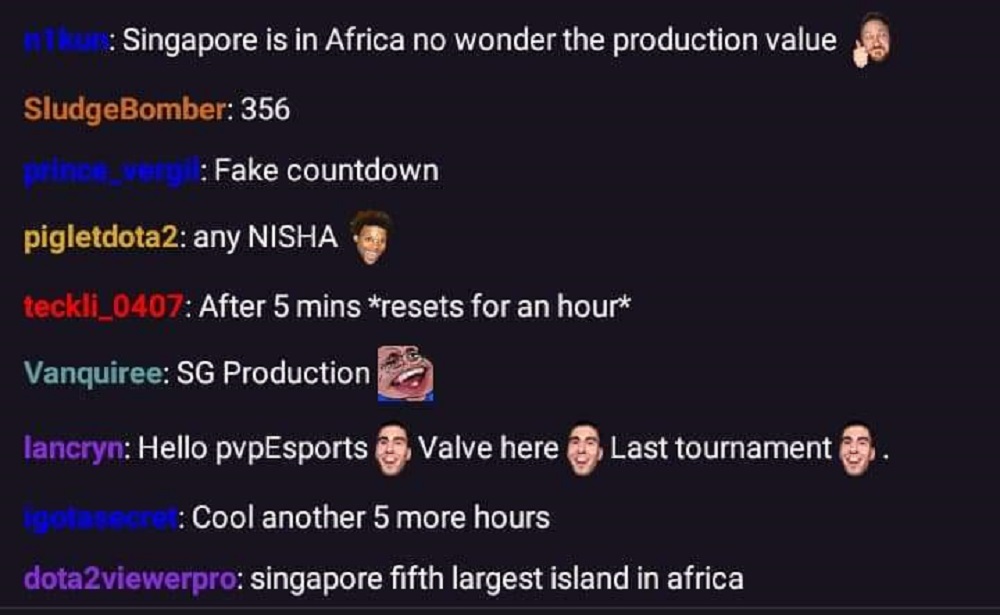 Which kind of brings me to my next point. Why aren't we using local organisations to handle the streaming instead of seconding it to a Filipino one with a penchant for sketchy quality? I know for a fact that we do have the talent available locally that have been consistently producing quality streams for international tournament mainstays like EVO. Why look outwards when the capability already exists locally? It doesn't make sense.
Casting/Commentating/Hosting Talent
This was in my opinion, a wasted opportunity for community outreach. The event had on-screen talent from all over South-East Asia and Europe. I did not see a single talent at the event that was local. Don't get me wrong, I believe in the benefits of diversity. It's not about me brandishing a pitchfork and a flaming torch in the dead of night yelling "zomgforeigners". I fully understand that Singtel was making a huge effort in making the show look premium. Bringing in established names gives the show a 'wow' factor but surely there's enough space for 2 or 3 of our own local talents to share in some of the spotlight?
Yes, we have a small talent pool here but it's growing steadily. There are some that already have international experience and can hold their own in an event like this. Lysander is one of the many that come to mind. If Singtel's professed objective of wanting to be "authentic" and "real" is genuine, then it is wholly in their long-term interests, to get Singaporean talent involved. Let us locals own it and be proud of it.