If you happen to be in the market for a great gaming monitor, the timing couldn't be better! BenQ, a market leader for visual display solutions, today introduced three of their latest products to Singapore. The newest additions to their already formidable line-up of wares, feature BenQ's cutting-edge proprietary technology for gamers, video enthusiasts, design professionals and movie-buffs.
"As a visual display solutions provider, we do more than lead the trend by introducing cutting-edge technologies. From design to features, we provide solutions to meet users' demands, and solve pain points encountered in their daily lives. Our proprietary technologies, such as Brightness Intelligence Plus™ (B.I.+), AQCOLOR™ and CinematicColor™ are developed to deliver premium quality displays, and stay ahead of the latest market trends," said Sunny Chang, General Manager of BenQ Singapore.
"Singapore has one of the highest rates of myopia. The government's battle with childhood myopia shows the dangers that poor eye-care can have on adulthood-especially in a time where screen-time outlasts any other activities. Our Brightness Intelligence Plus™ feature is a world's first technology-it automatically adjusts the display quality to best fit surroundings and offer the best enjoyment all while caring for the eyes."
The EX3203R Curved Gaming Monitor (Retail: SGD$799. Available on Lazada)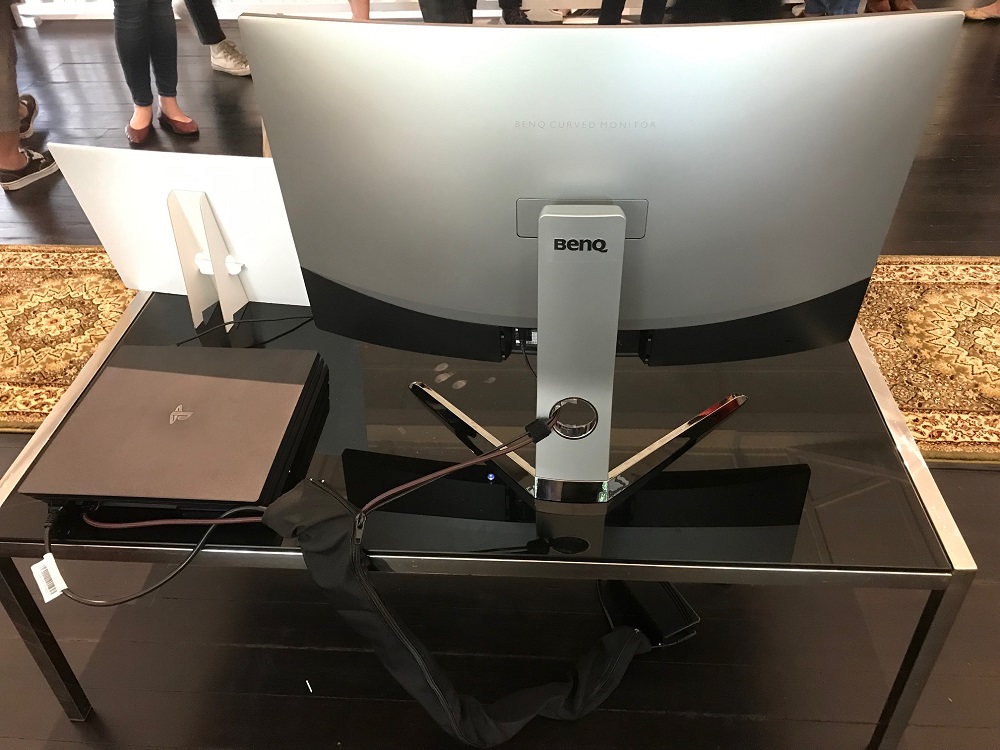 The new EX3203R cuts a stunning svelte figure with it's chrome and matte silver finish. It's a 32-inch curved display with 1800R curvature that supports all 2K HDR content and is capable of a 144Hz refresh rate.
Product Features
Some of the key features of the monitor include:
VESA DisplayHDR 400 certification – The certification promises that the EX3203R can flawlessly render HDR content with brilliant peak brigtness and contrast, and clear details for naturally realistic video and gaming quality.
AMD FreeSync™ 2 technology – The EX3203R is able to offer a fluid gaming experience by eliminating image tearing, broken frames, and choppy gameplay.
Brightness Intelligence Plus™ (B.I.+) eye-care technology – BenQ's unique eye-care technology automatically detects ambient colour temperature and brightness to adjust the monitor's display brightness and colour temperature accordingly. B.I.+ technology provides long-term eye comfort for extended gaming or video watching sessions while delivering spectacular HDR imaging to preserve clarity of dark details, even in dim environments. Which is fantastic news for people that suffer from light sensitivity, like myself. I often find myself squinting when playing games with dark environments that have sudden occasional bursts of bright light. Playing for long periods of time usually meant that I have to deal with massive migraines. In this case, B.I.+ is pretty much a god-send. The video below shows this technology in action.
Flicker-Free technology – Proprietary to BenQ, the technology provides immediate relief from eyestrain by eliminating the 200+ times per second flickering that plagues conventional LCD screens.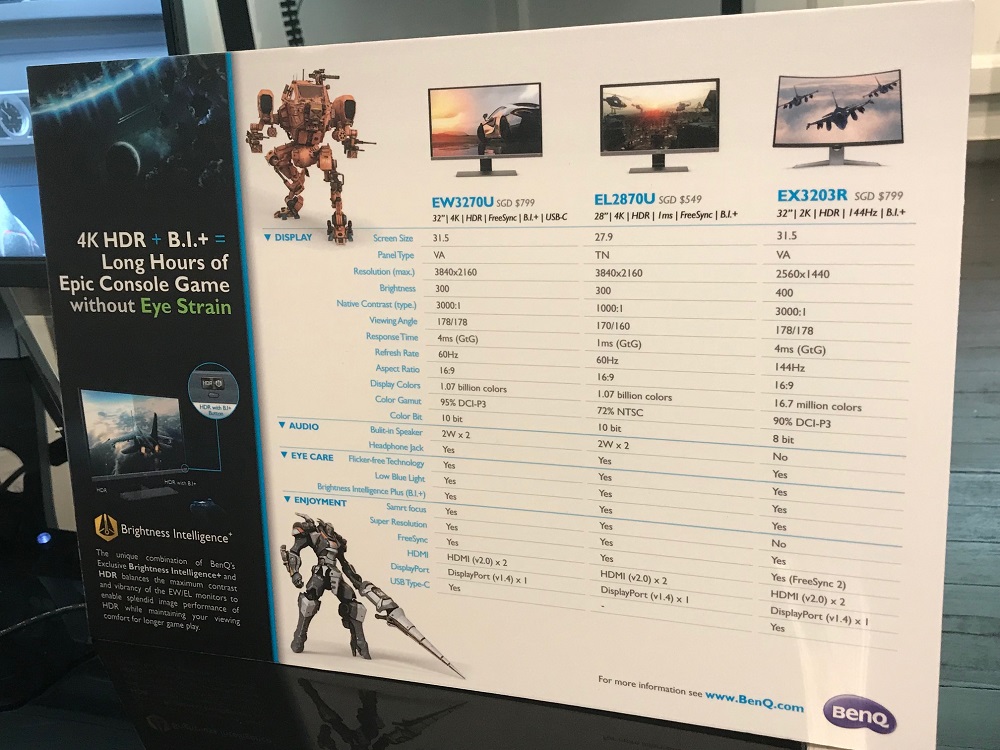 The PD3220U, 4K UHD Thunderbolt 3 AQCOLOR™ Monitor for Professional Designers (Retail: SGD$2,099. Available Q2 of 2019 onwards at the Official BenQ Store in Lazada.)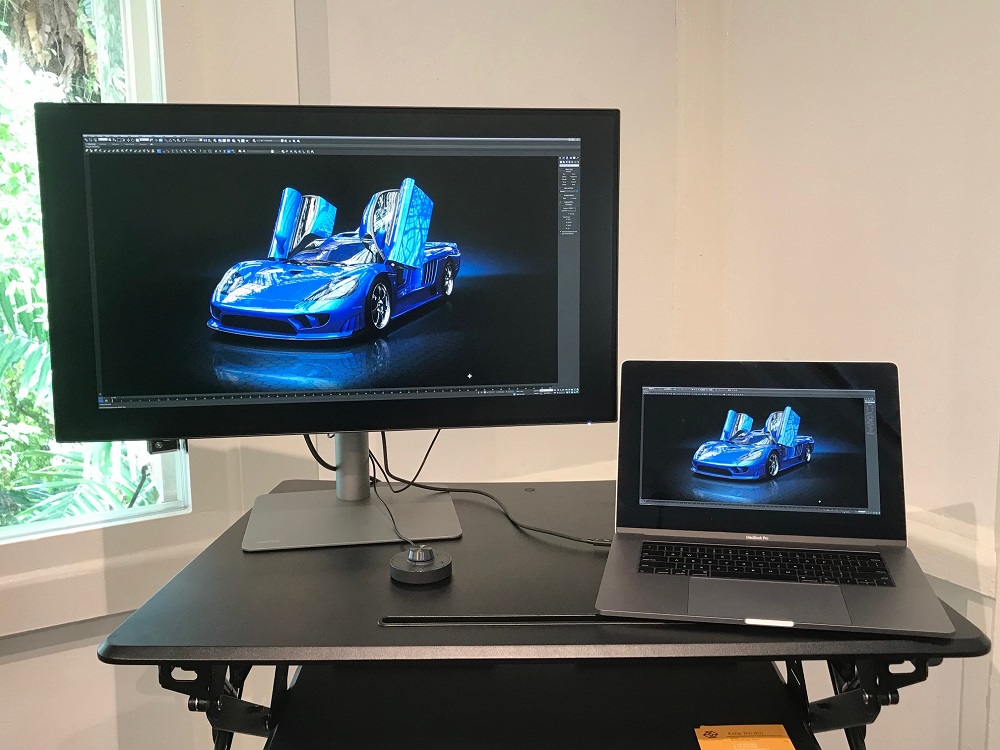 The new PD3220U delivers individually calibrated and certified world-class P3 colour performance that designers need. The 31.5-inch monitor embodies BenQ's continuous devotion to the latest professioinal market requirements in colour accuracy and display functionality for improved work efficiency and creative productivity.
Product Features
Features include:
AQCOLOR™ Technology – BenQ's proprietary technology that upholds the concept of "Accurate Colour". A result of their on-going devotion to meet the latest professional colour standards and desire to ensure strict colour accuracy with individualised factory colour calibration.
Wide Colour Gamut for Colour Consistency – The DesignVue monitor PD3220U's M-Book Mode precisely replicates the P3 colour performance of the iMac and MacBook / MacBook Pro devices commonly used by professional designers.
Second-gen Hotkey Puck – An ingenious BenQ technology that facilitates OSD menu control with a convenient brightness / contrast / volume dial, a key to quickly switch between display modes, and three customisable buttons to quickly access colour mode and other OSD settings.
3 Specialised modes for design professionals – The CAD/CAM Mode provides superio contrast for line and shapes in technical illustrations. The Animation Mode enhances the brightness of dark areas without overexposing bright regions. The Darkroom Mode optimises image brightness and contrast for darkened post-processing environments.
BenQ's exclusive Low Blue Light and Flicker-Free technologies – where BenQ's class-leading eye-care technology, to protect the eyes during extended project sessions, meets the latest in professional colour standards.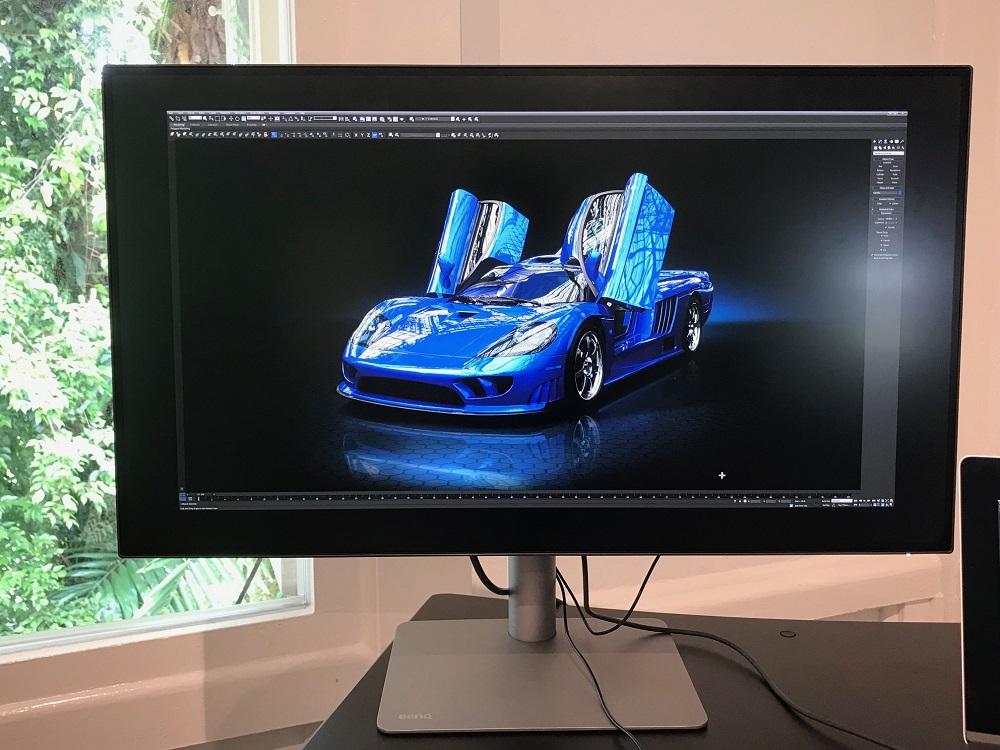 Technical Specifications:
Screen Size: 31.5 inches
Panel Type: IPS
Resolution (max.): 3810 x 2160
Brightness: 350 nits
Native Contrast: 1300:1
Viewing Angle (L/R;U/D) (CR>=10): 178/178
Response Time: 5ms (G2G)
Display Colours: 1.07 billion
Colour Gamut: 95% P3, 100% sRGB
Colour Bit: 10 bits
I/O: Thunderbolt 3 port x2, HDMI 2.0 port x 2, DP 1.4 port x1
Cables: Thunderbolt 3, HDMI and USB 3.0 cables. 1 each.
USB hub: USB3.1 Gen2 Type A x3, USB3.1 Gen2 Type C x1, USB upstream Type B x1
The W2700 4K HDR-PRO Projector for Home Cinema (Retail: SGD$2,699. Available Q2 of 2019 onwards at the Official BenQ Store on Lazada.)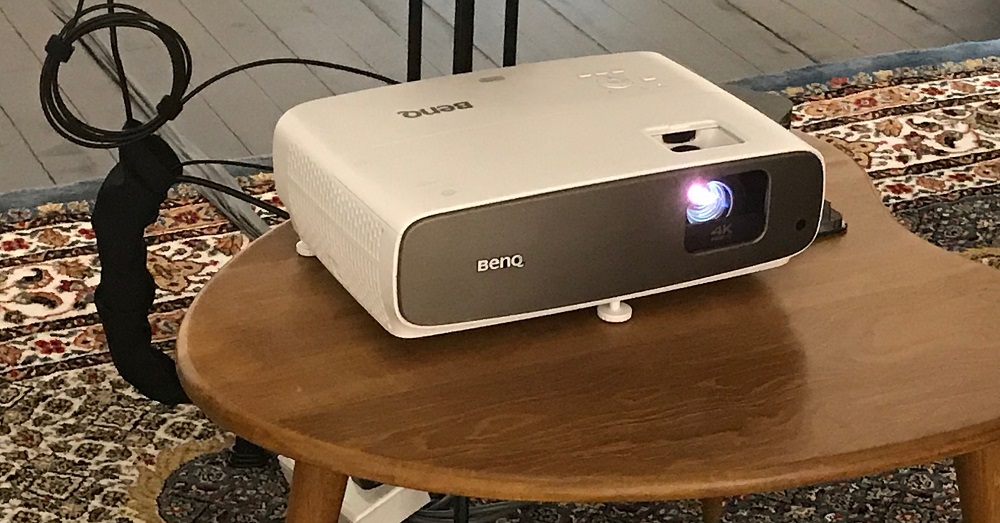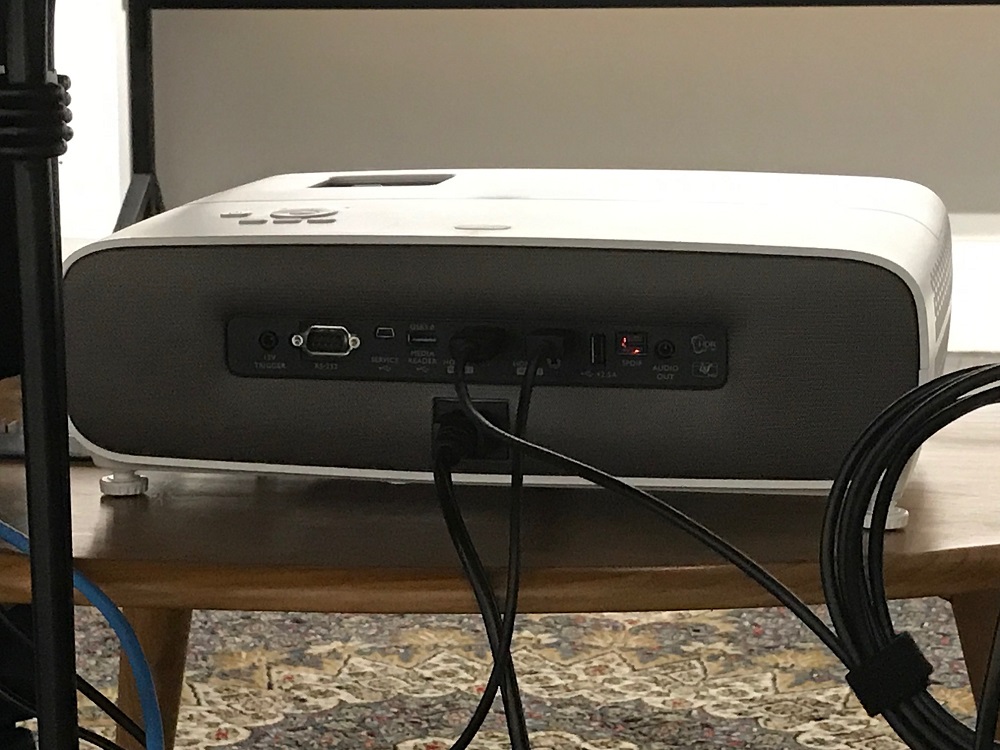 The CinePrime W2700 is the world's first 4K DLP projector with DCI-P3 colour designed for home cinema with short distance projection. BenQ's CinePrime W2700 guarantees long-lasting CinematicColor™ with projector-optimised HDR-PRO support and individual factory colour calibration.
The lightweight design and sleek, compact profile accentuates beautiful aesthetics as well as intuitive functionality. it delivers cinematic wonder in any space with versatile short throw, 1.3x big zoom, vertical lens shift and hassle-free installation.
The CinePrime W2700's capabilities were demonstrated by playing films off Apple TV. The setup was in a room size that would be typical of the usual living room space in Singapore, with the projector being setup on a coffee table. The projection was clear with proper saturation. Images did not look washed out. You could even tell the subtle tones in colours and shades. In case you're wondering, you COULD use it for gaming but with a 5-6ms response time, it's going to give you a big disadvantage for FPS and fighting games on a competitive level. If you're a huge filmophile, then the CinePrime W2700 is right up your alley.
Considering that a 65-inch 4K UHD LED TV averages at the SGD$3,000+ mark, the price point for the CinePrime W2700 comes across as being value for money. Granted that the comparison is like apples to oranges since LED TVs are different from projectors, the question of "projector or tv?" does come up quite frequently.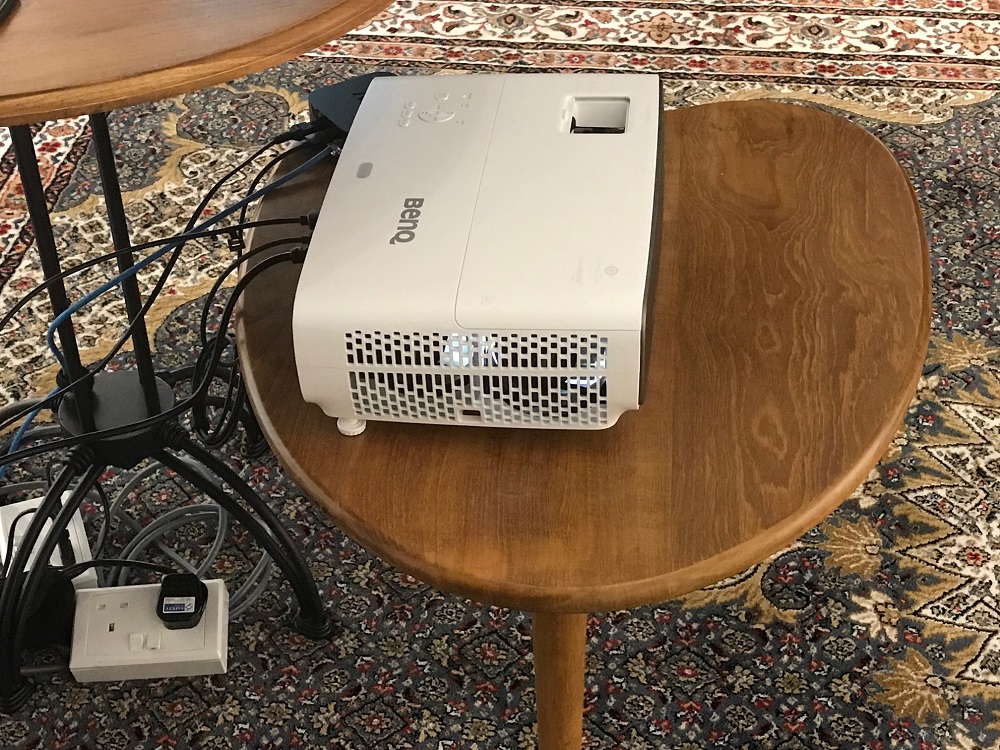 Product Features
Some key features of the W2700:
CinematicColor™ technology – BenQ's proprietary technology that utilises optimal colours to bring out accurate colour in your 4K HDR Home Cinema.
95% DCI-P3 colour space – the W2700 provides 95% coverage of the super wide DCI-P3 colour space and 100% of Rec. 709, backed by individual factory colour calibration reports to ensure Delta E≤3 colour accuracy.
3840 x 2160 resolution and 8.3 million distinct pixels per frame – it utilises the latest 0.47″ single-DMD DLP technology, and a pristine 4K-optimised optical system with 6 structured groups of 10 all-glass lens elements to produce spectacular clarity and sharpness across the entire screen.
HDR-PRO – Supports both HDR10 and HLG formats. The W2700 incorporates auto colour and tone mapping techniques that offer superior brightness and contrast ranges as well as ideal image optimisation to bring out stunning 4K clarity, vividly natural and realistic video quality.
CinemaMaster Video+ and CinemaMaster Audio+ 2 – the W2700's proprietary technologies that allow users to customise motion-adaptive 4K pixel enchancement, natural flesh tone rendition along with EQ integrated audio settings.
Full technical specifications for the CinePrime W2700 can be found here.