Sakuna of Rice and Ruin is a bash 'em up platformer and rice farming simulator mash up from Edelweiss and XSEED games. It was launched globally on 10 November on PS4, Nintendo Switch and PC via Steam.
With a mythical Japanese backdrop, the art style of the game is very anime inspired with great use of graphics to bring it all to life. The soundtrack adds to the atmosphere, switching from peaceful feudal Japanese music when in farming mode to a more high tempo action beat in the platformer battles. There's 4 different languages you can play the game in – English, Japanese, Korean and Mandarin, however audio is only in English and Japanese. Personally, I prefer the audio in Japanese as the voice acting feels more natural. For PC, you have the option to play with mouse and keyboard or with a controller. I ended up with mouse and keyboard because it looks like the controller settings weren't aligned – game shows to press "A", but you actually need to press "B".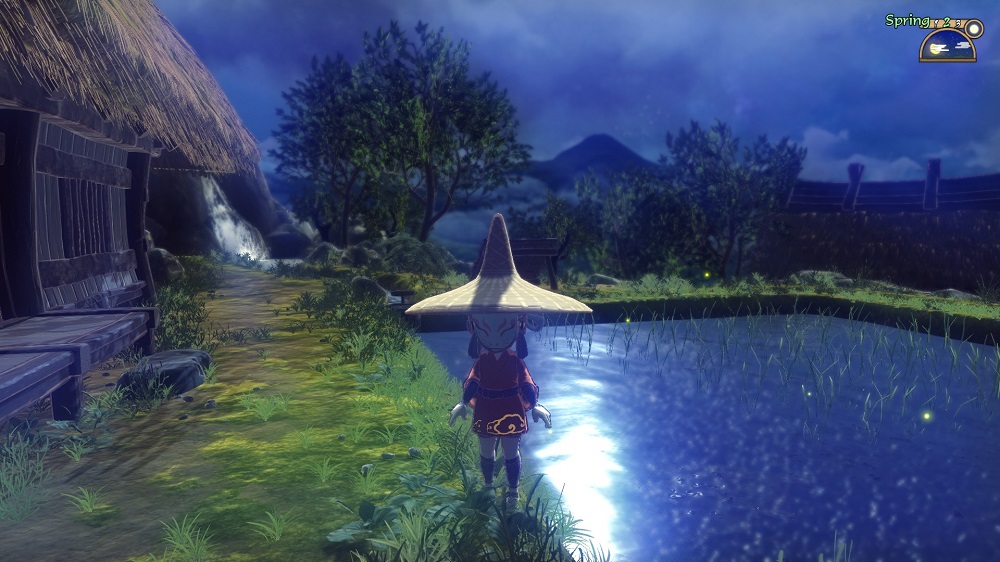 You play the lead character, Sakuna, a high-ranking goddess in a fictional Japanese pantheon. Through the mistake of letting humans into the heavenly palace, Sakuna is exiled by Lady Kamuhitsuki to the Isle of Demons with the humans. There, you'll begin to etch out an existence in hostile territory, however, the Isle has history that is tied to Sakuna, hence you do get some assistance along the way, starting with a home base.
Quickly, you'll learn the humans you're with are a group of outcasts, who'll eventually turn out to be helpful to you. There's the big samurai/bandit farmer wannabe, Tauemon. He'll provide farming advice and can also be tasked to do some of the farming. Kinta, a snarky boy who tends to butt heads with you alot but will be the group's blacksmith and provide you with upgrades to your weapons. Myrthe, the only foreigner in the group, who was a missionary and now the cook. Yui, a young weaver who'll help you with your equipment and finally, Kaimaru, a little toddler who barely speaks. You'll also have help from your advisor and fellow god, Tama, as well as a native of the island, the half man half weasel, Ashigumo.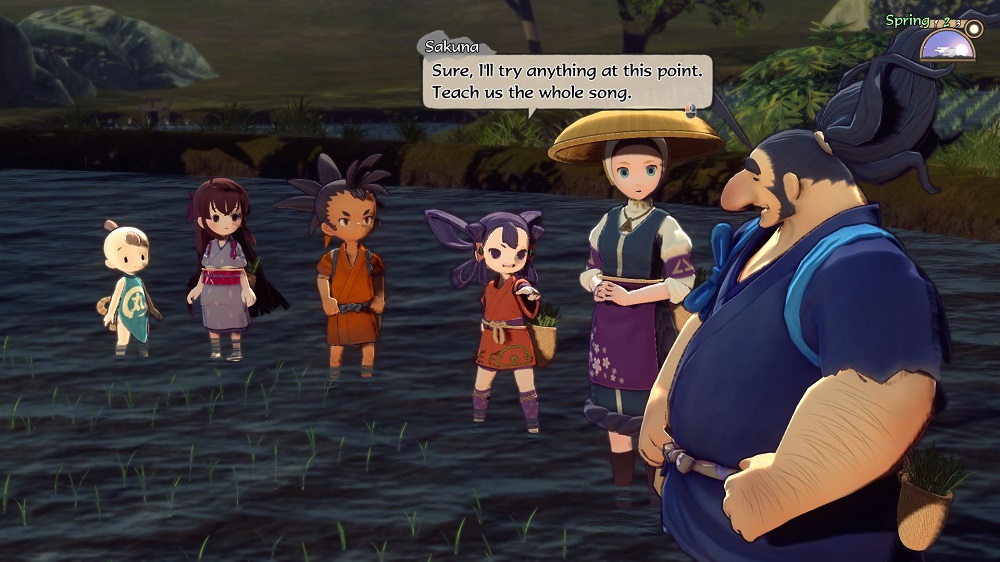 Once Sakuna of Rice and Ruin is underway, you'll be using the World Map to get around. It's pretty straightforward in the beginning. You'll pick locales to go and do battle with the demons and pick up materials along the way. These expand later to places where you can specifically just gather materials or do battle with a boss.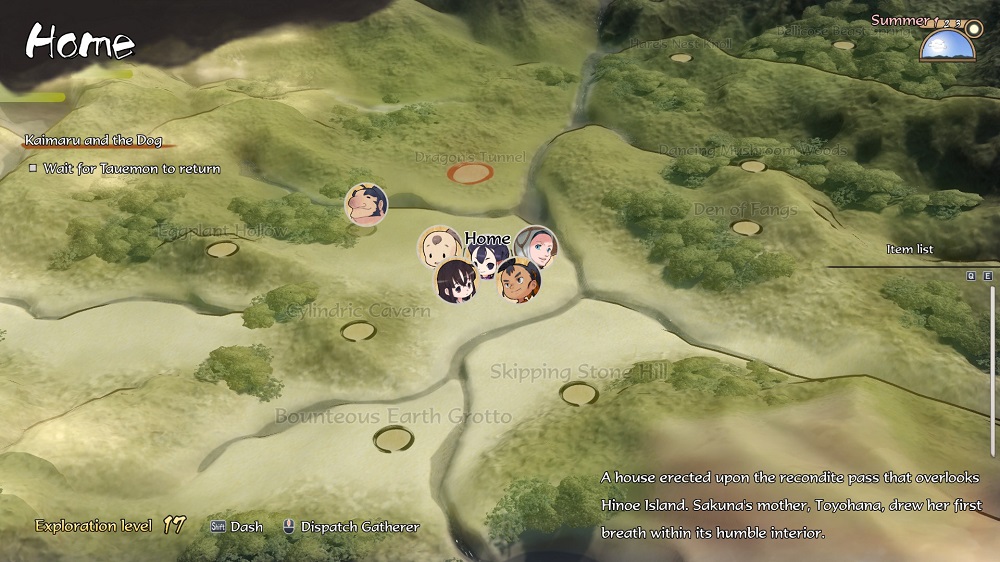 The battles for Sakuna of Rice and Ruin can get pretty exciting and as expected, gets harder the further you progress. You'll have a number of skills and equipment to keep up with the difficulty. You'll also need to practice using your Raiment to pull you up to those hard to reach places. Basic attacks are light and heavy, and depending on the weapon you have, the damage dealt would be different vs. different enemies, some of which, you need specific damage types to even damage. You also have a number of skills you can discover and equip to help you do big damage, hit multiple enemies or create a shockwave projectile on the ground.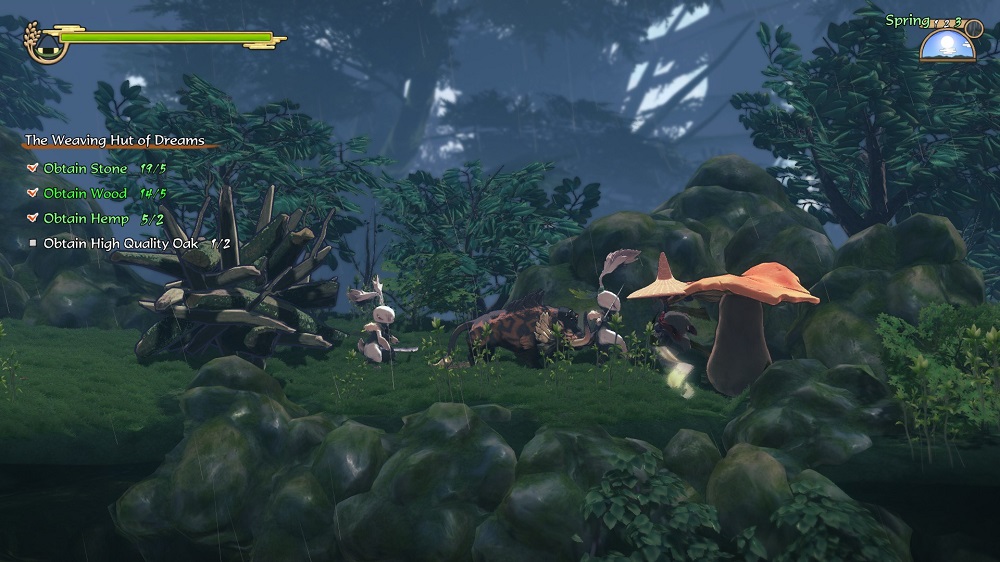 The starting enemies range from rabbit and sparrow demons to the larger pig and boar demons. These demons drop meat for you to cook when you defeat them. There's also a day and night cycle, where the enemies get a lot stronger at night. Each locale has a number of goals to complete like gathering a certain amount of materials, killing a number of enemy types or finding a treasure. Clearing these will unlock more areas on the World Map for Sakuna of Rice and Ruin. 
After all the fighting and gathering, you'll eventually get a message that your stomach is grumbling and that you won't regain lost health if you continue. At this point, it's best to head home.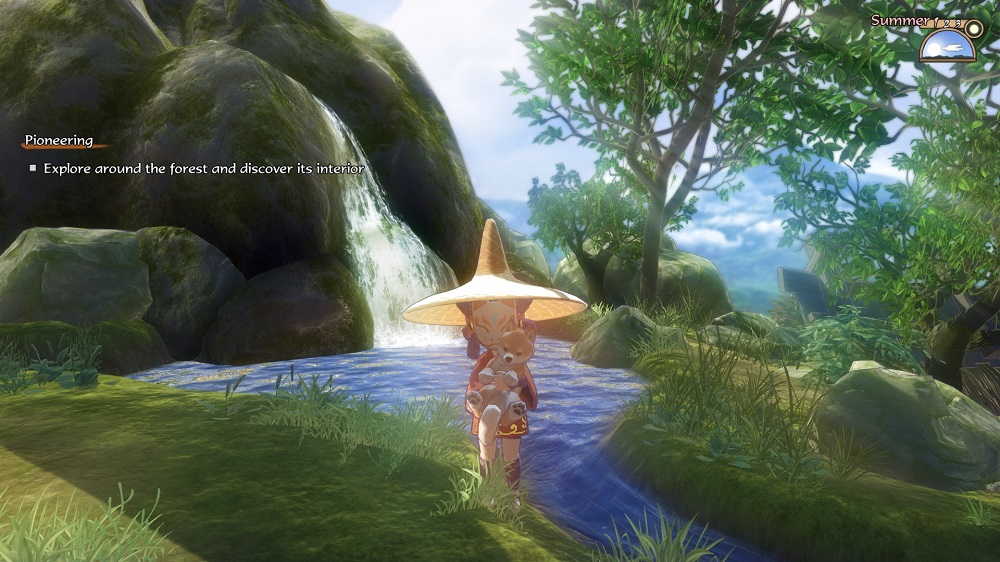 Once home, it's a whole different ball game. You'll now be in a 3rd person view and can roam around your farm. There's a number of tasks you can do and probably the most important one is to cultivate rice. This is the farming simulator part of the game and it isn't just that. Cultivating rice actually makes your character stronger! What an interesting mechanic! The better your quality and yield of rice, the more powerful Sakuna gets. There's even additional skills you get depending on your final harvest. This is the way you level up in Sakuna of Rice and Ruin.
The rice farming simulation is full on. The game is basically split into months grouped into the 4 seasons. Starting with Spring, you begin by planting rice. You can get Tauemon to do it, however, it's best if you do it yourself in the beginning. You actually need to take note how far apart the rice is planted from each other. As the game progresses, you would get skills to help with it. You'll also need to control the water your paddyfield has via a couple of watergates. Different seasons require different water levels and you'll also have to account for rain. Once planted, you have to occasionally keep a look out for weeds to pull out and grab nearby animals like frogs and spiders to help keep pests out.
You'll also need to keep your field fertilized. Yes, fertilized with the glorious contents of the outhouse. You can mix in other stuff, like manure and even herbs to add more benefit to your rice stats.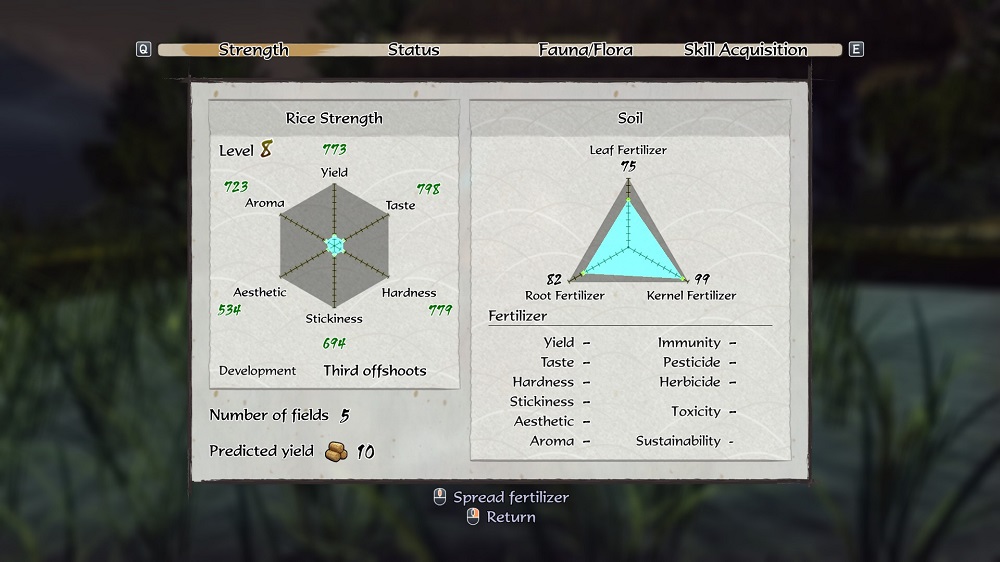 Come Autumn, it would be time to harvest, which requires a lot of legwork. Once harvested, you'll need to dry out the rice, which could take the whole season. Next, you proceed with threshing the rice, which gameplay wise is following a series of directions and/or buttons to press. After that, you'll need to hull the rice. This is basically, shelling the rice, the more you hull, the whiter the rice. Finally, your new rice is complete and you can see the results and reap its benefits. Most of these tasks can be handed off to someone else to handle but if you do it yourself, you'll unlock skills to make the tasks easier and faster.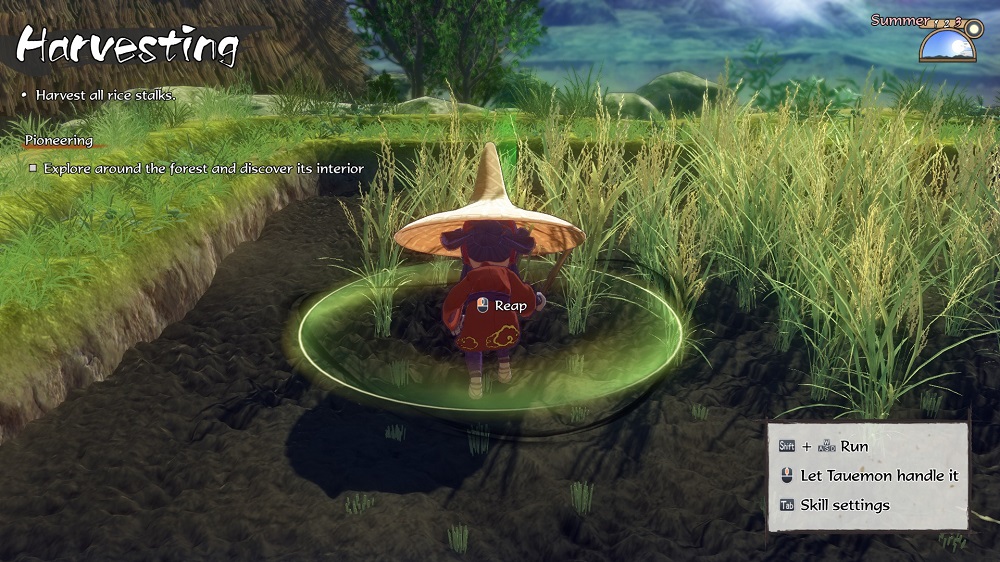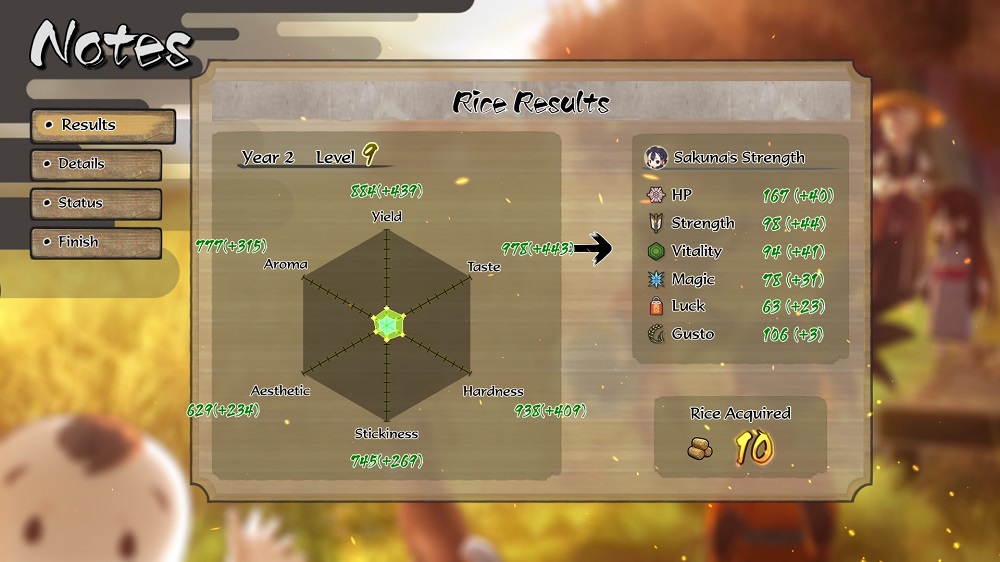 Last but not least, another important aspect of the game is dinner. Before you can go out to do battle, you need to have dinner to keep your belly full. Depending on the rice available, meat and other food items you've gathered, there's a large variety of food to prepare for the meal. Make sure to process your ingredients so that they last longer. The food you select will have benefits for your stats such as increased strength and vitality and also how full you are. This determines how long you can be out adventuring before needing to return home again. You can also get additional effects like poison resistance, better health regen or slower rate of hunger. The dinner is also where you get to learn more about the background story and characters as this is where many conversations between the group happens.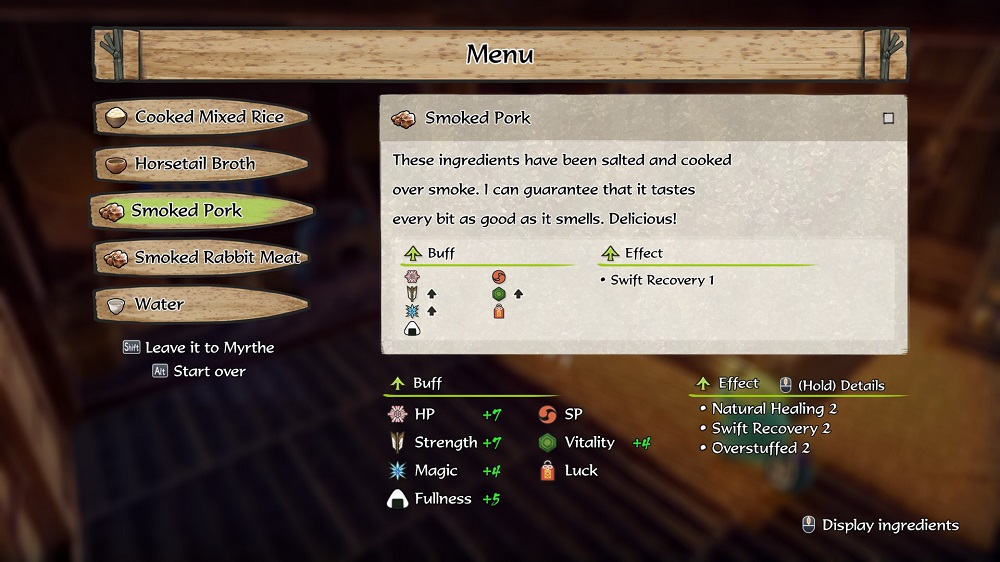 All in all, Sakuna of Rice and Ruin pleasantly surprised me. I haven't played a platformer in ages and with this rice farming mechanic for leveling, it really made me come back again and again. I found it rather soothing to be doing the farming bits and the music really helps the mood as well. It's almost therapeutic. You can tell a lot of research was put into details of the rice cultivation and I learned a lot about it. Strangely, it made me appreciate rice even more now. Definitely looking forward to sinking more hours into this game.
This review is written by Gene Yeo.