Back 4 Blood by Turtle rock studios is the unofficial sequel to the greatest FPS zombie game ever, Left 4 Dead 2. For many years, I've enjoyed playing L4D2 with my friends, be it 4 or 8 of us. L4D2 has always been the go to game to play with friends. But now that Back 4 Blood is out, I can safely say L4D2 is passing the mantle to B4B cause it is one HELUVA game!
I have put in quite a number of hours into Back 4 Blood on the campaign mode. Played it on my own for a bit and with my friends as well. I still believe that B4B is best enjoyed playing with friends. It annoys the shit out of me when I play with random strangers. It can be so frustrating cos sometimes they can be really good or complete arseholes. Best way to enjoy this game is to play with people you know so that your blood pressure doesn't shoot up when you see a random idiot carrying the explosive and doing fuckall instead of going to plant the explosives.
One of the good things about playing Back 4 Blood with your friends is, everyone doesn't need to be on PC to play the game. B4B allows cross platform play, so if your buddies are playing on consoles and you are on PC, you guys can still have a fun time together!
There are quite a few significant changes done to the gameplay. What you have always experienced playing in L4D2, you can only use the basic stuff like in any FPS games. You can mode your guns and there is a big variety of weapons you can choose from. My fav is the AA12 shotgun, Carbine and the magnum as a sidearm. And there are different caibers. You have ranges for shotguns, assault rifles, sniper guns, sub machine guns and pistols as well. There is a rifle range at the back for you to try out various weapons.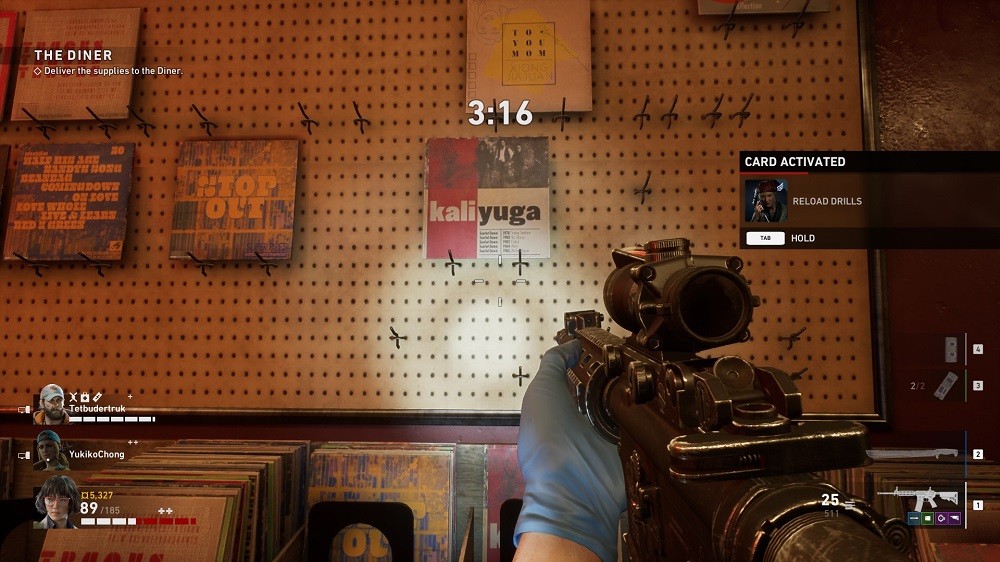 One welcoming change is the ammo. If you are weilding an assault rifle and your friend has a submachine gun and he runs out of ammo, if you have in your stash some, you can always drop it so he can use. One strategy, I use when playing with my friends, is we always try to use different weapons so we can share our ammo whenever shit is about to hit the fan.
You can also choose to use a melee weapon as well. But to me, I think what's the point of using a machete as a melee weapon when I can use my bash as a knife instead. In L4D2, you always shove zombies away especially when you are overwhelmed with them coming at you. This time round, you use the bash button to punch or in my case stab them. There is a price though, you can't just keep stabbing your way through. You have to watch your stamina, The stamina will deplete whenever you run or use a melee weapon. There is a way to make your stamina last longer and that is to your those stamina cards. it's also good to alternate between bash and shooting your weapon.
Now the cards can be a tad bit confusing. It took me awhile to get used to it. When you start the game you will have a starter deck which are made up of some basic yet essential cards. One of the cards you definitely need if you wish to change your bash to a knife. You can also create your own decks and choose from the number of cards that you have gathered, with the more areas, you play. There are cards that will help with monster weaknesses, ammo capacity, health, stamina, bullet damage and many more. You have 15 cards to use, so choose wisely on how you gonna select your cards for certain missions.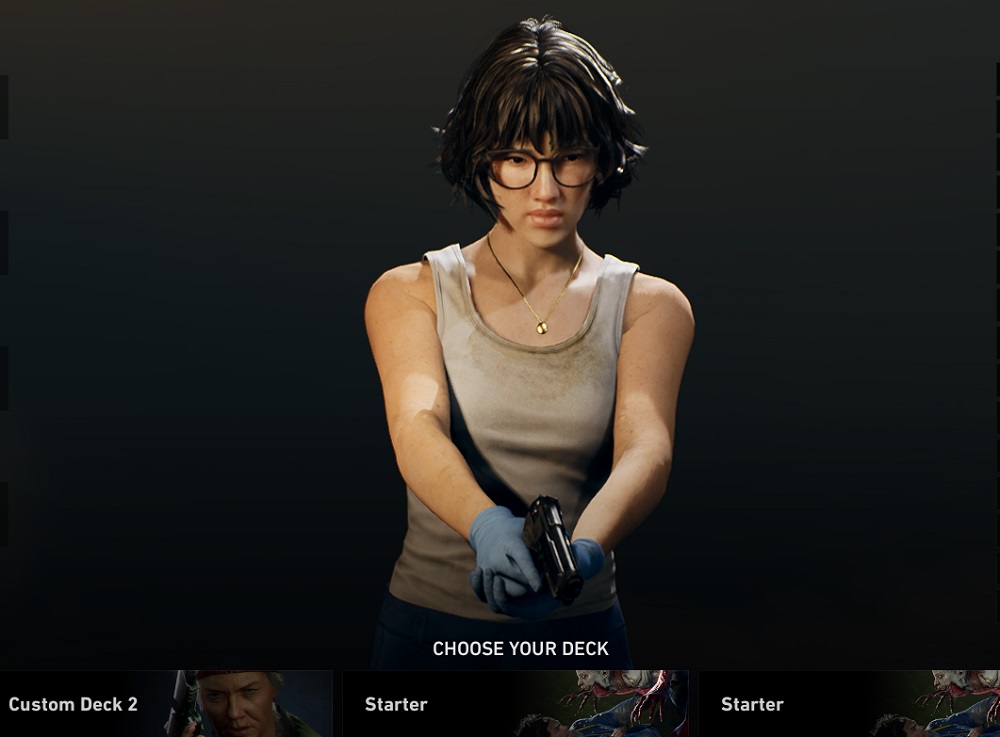 There are more characters this time for you to choose from and each charcter has his/her own strength. The one that I have used the most is Doc. She's pretty. She's cute and she can heal everyone except for herself. Hoffman has an extra offensive inventory slot and increases ammo capacity but he is slow. Mom is also good to use as a team cause she can instantly revive an incapacitated teammate and grants one extra life to her team. I havent had the chance to try the rest. The last I used was Evangelo. He is fast and can break from grabs every 60 secs.
Now the monsters are different yet alittle smiliar and mashed up, I would say. Too bad there aren't any witches in this game but the rest of the monsters are sure worth fighting. I just have to remember theri names when calling them out to my team mates. Right now, I've just been using nicknames for them.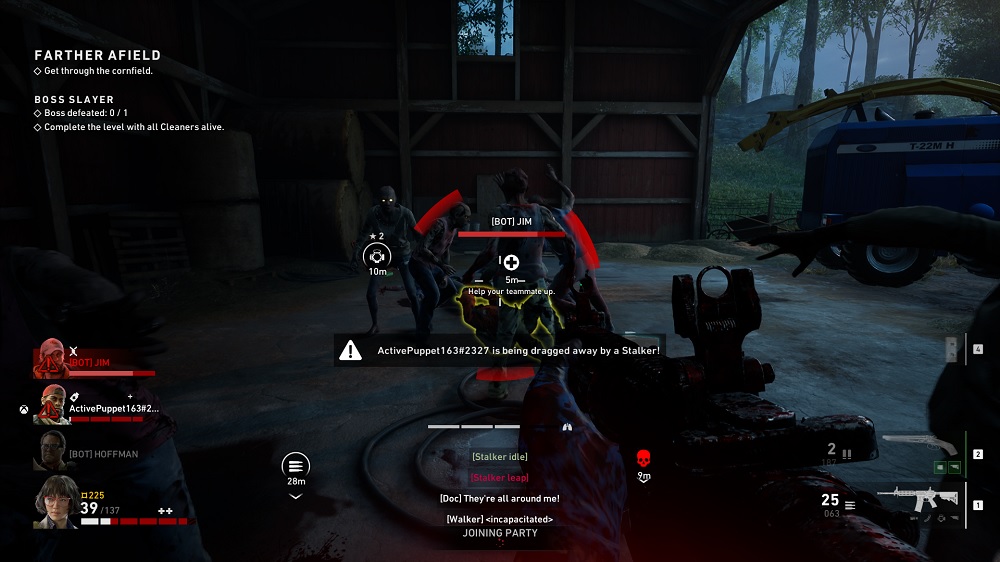 Stingers. These four armed fuckers are fast and can jump and hang on walls. They spit these long range goo which can trap you and if there is no one to free you, you are well and truly fucked. Shoot them at the chest.
Bruisers. I call these guys, Tall Boys(easier). These are just like chargers from L4D but they are slow but when they hit you, you need more than panadols to survive that. Shoot them at the arm or head.
Retches. I call them Big Guy(again easier). If the Spitter and Boomer had a baby, it would be this pundei. They explode and can spit acid from a distance. Shoot them to explode.
Snitchers. These penis looking fellas appear only on certain event or mission and they are extremely annoying. You can only kill them AFTER you have startled them and once they detect you they will keep walking towards you till you have no choice but the shoot them and when you do, in comes the horde.
Hags. These are tough and terrifying. If the Hag aims at you, you just fucking run and fucking shout at your team mates to shoot at this fucker cos if he gets you, he is going to EAT you.
Crows. They just sit there doing fuckall at weird places, just so you have to startle them and yup, you guessed it. In comes the horde.
Wall Cheebyes. I'm not if they have a name but I call them that. These cheebye are on strategic walls and when you least expect. They usually pounce on you and do some damage.
Ogres. Big and freaking scary but slow and you can take it down slowly as a team but the fella appears every now and then.
Abomination. The head hooncho. The last king. Not easy to kill, even on recruit level. Split into 3 phases but once you are done with this guy, you have completed the game.
All in all Back 4 Blood is a game, I would highly recommend playing with friends cos it's fun and blood soaked.