Anchor down and bundle up with a buddy, then hang on tight in a challenging duo platforming quest to summit snow-covered pixelated peaks. Reach new heights together as penguin pals Bread & Fred strive to perfectly sync as they traverse up the slippery slopes.
Scale the mountain while testing friendships with local or remote co-op, coordinating jumps in perfect harmony. Anchor down to send partners flying upward to clear massive gaps with acrobatic precision. Feeling like that friend miiight be dragging down progress? Swap out that weak link with Jeff the rock to solo-swing across obstacles for a single player climbing experience.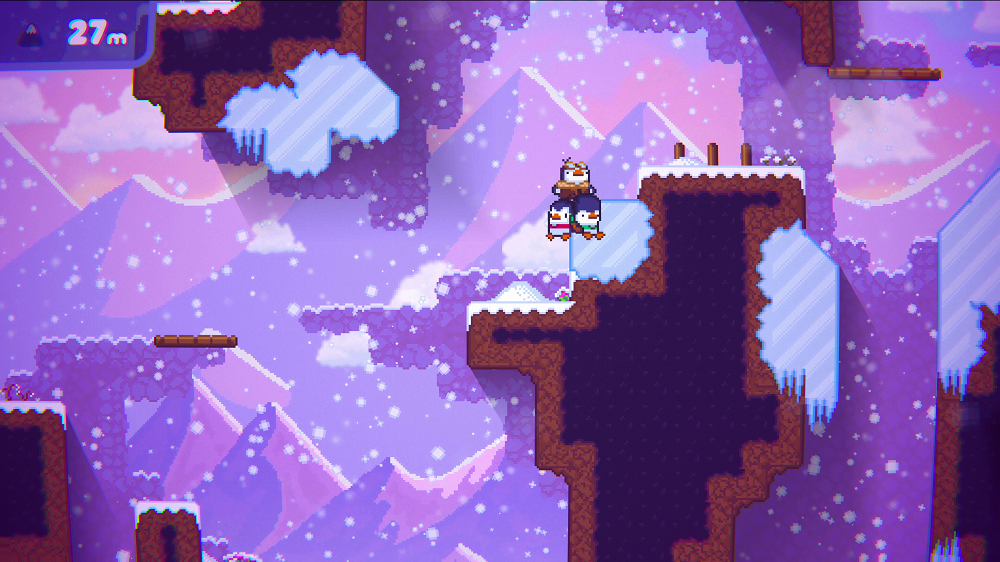 Bread & Fred presents a familiar challenge with a new twist of platforming in unison where communication conquers all else. Success and failure are a joint endeavor, and one false move can send both tumbling down the steep heights. Discuss next moves before each leap or play rock-paper-scissors with an emote to see who takes the lead. Mind every step as difficulty increases with altitude and introduces new obstacles like wind, ice and moving platforms.
Ease the pain of accidental tumbles with assist options such as placeable check points and infinite jumps to return to previously achieved heights, and complete challenging missions to unlock new skins. Gather a book's worth of tutorials in hard-to-reach areas to unravel various movement tips and piece together an adorable story with collectible photos along the way. For ice-veined platforming perfectionists, attempt speedy synchronized ice-climbing in Speedrun Mode.
"A great platformer will always challenge players to beat their previous record over and over until they achieve the best time possible," said Scott Miller, CCO and Founder of Apogee Entertainment. "Bread & Fred took that model and incorporated a co-op aspect creating a one-of-a-kind platforming experience. Over 1 million fans of the genre have had a blast with the demo, generating overwhelmingly positive feedback and hilarious hijinks all over the internet."