Steady lah! Secret base has announced that their game, Streets of Red: Devil's Dare Deluxe will be coming to PlayStation 4 and Switch. It's a "permadeath multiplayer horror beat'em up" game. If you are a fan of horror films and games, you probably would love the parodies for this game. From "Aliens" to "Friday the 13th" to "Stranger Things" and many more! The title itself has a Rob Zombie movie feel to it. And it's local!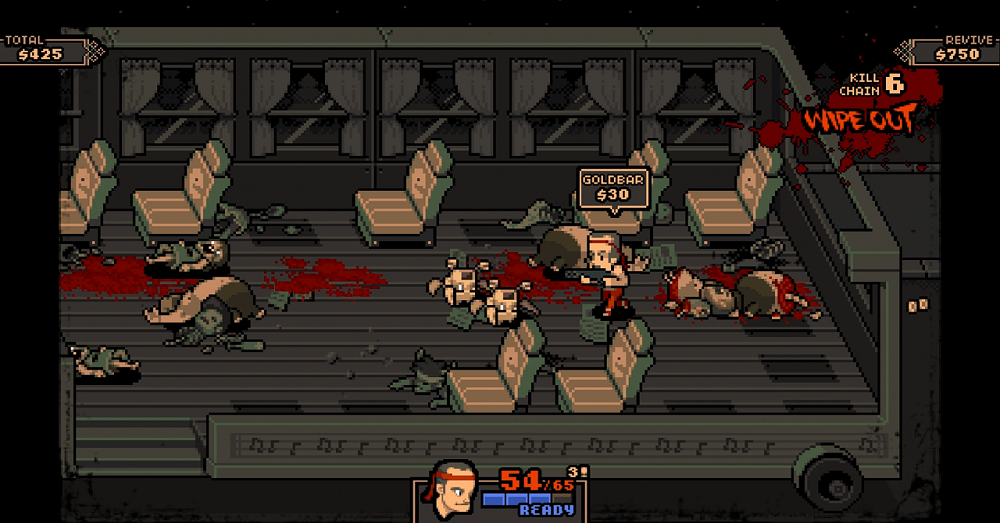 Check out the overview from the Streets of Red website:
In Streets of Red: Devil's Dare Deluxe, the only thing scarier than being eaten alive is running out of quarters!  A permadeath multiplayer horror beat'em up that bestows players with the skills of retro gaming heroes in a fight against a legion of undead monstrosities.
Streets of Red : DDD was designed to be played over and over again, with each run offering up the potential for new content. Six unique playable characters and an ever-growing level selection work to keep the gameplay from getting old and rotten, while the easy to learn but hard to master combat system allows for plenty of depth. 
With every kill, you earn cash that can be spent on upgrades, or to revive yourself when you die. You better learn how to make cash fast and spend it smart in Streets of Red : DDD because when you're dead, your save data dies with you. The chills, thrills, bills, and opportunity to learn new skills here won't stop until every street runs red with blood! Are you up for the challenge of an anti-lifetime?
Now check out the teaser trailer for Streets of Red:
Judging from the trailer, it sure looks fun to play this game. It's got that old school Streets of Rage aka Bare Knuckle vibe to it. Just more cuter lah. I also liked the music especially towards the end. That beat sounds very much like Meshuggah, a Swedish Death Metal band that I like a lot. Could these guys from Secret base be metalheads? Hahahaha.
Streets of Red: Devil's Dare Deluxe will be available for PlayStation 4 and Switch on 27th February at $8.99.