Catie in MeowmeowLand
, the comical point-and-click adventure based on Alice in Wonderland from 
ARTillery
and publisher 
Blowfish Studios
, embarks on a surreal trip on Nintendo Switch, PlayStation 5, Xbox Series X|S, PlayStation 4, Xbox One, PC and Mac via Steam and GOG on Wednesday, March 30, 2022.
Follow the mysteriously quick white cat and dive into fantastical adventures. After being dragged down a rabbit hole by a giant limb, Catie explores a hallucinatory storybook world filled to the brim with outlandish creatures and flabbergasting puzzles. Backgrounds, foregrounds, and midgrounds are chock-full with interactables providing useful items or nonsensical animations only found in the miraculous MeowmeowLand.
Tackle point-and-click brain-teasers across fantastical environments such as a vibrant mushroom forest, ironic underground astronomy tower, mysterious magical lake, and lofty stalactite-like fountains atop the cave's roof. Interact with wondrously weird characters like the Giant Cheshire Cat, Waring Pirate Fish, or Crazy Blue Elephant that bring this stylized storybook to life. Guide Catie throughout her journey safely and ensure she makes it back home safe and sound.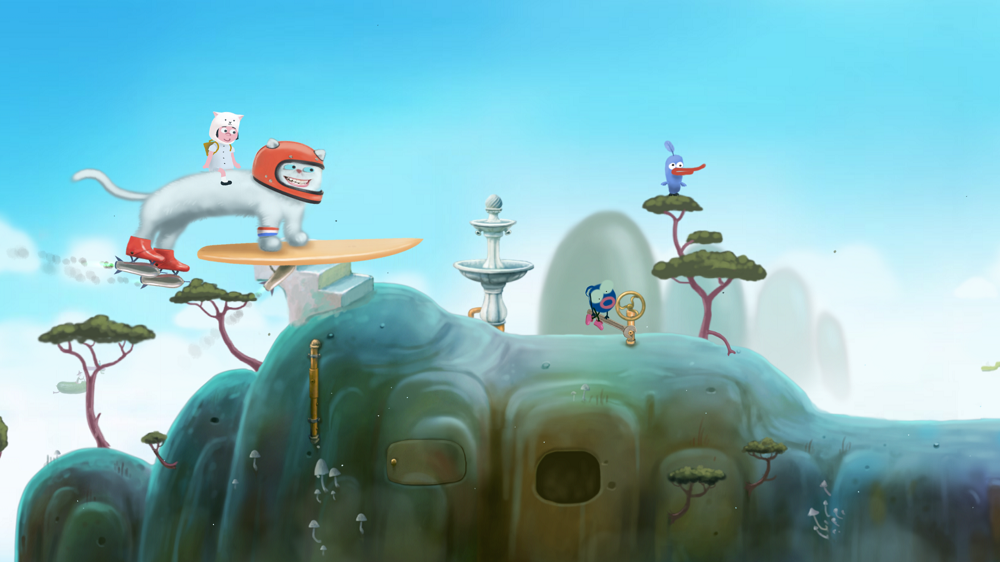 "Catie in MeowmeowLand is our own kooky take on this classic story full of outlandish characters," said Marek Hlavaty, Lead Artist, ARTillery. "Making ourselves laugh with this project has been such a joyful experience and it captures the magic of the original Alice in Wonderland!"
Catie in MeowmeowLand will be available for $14.99 / £9.99 / €11.99 with support for English, French, German, Spanish, Russian, Slovak, Japanese, and Chinese (Simplified and Traditional) language options.