Ragnarok X: Next Generation will mark the 1-year Anniversary of its launch, a historic milestone for this beloved MMORPG. To celebrate this momentous occasion, ROX will be collaborating with the world-famous manga series Attack on Titan, where there will be plenty of exclusive prizes, accessories, and even an event-dedicated game mode on offer. Come be a part of the festivities!
Ragnarok X: Next Generation x Attack on Titan Collaboration
Once players' Base Level ≥20, they will unlock a limited-time「War of Freedom」game mode, which will put two groups of players into roles of the Survey Corps and the Titans, respectively. The Titan Camp will take on the roles of Colossal Titan, Armored Titan, and Beast Titan, while the Survey Corps Camp will take on the role of 5 humans. Using the weapons, strategy, and the abilities available to them, each side must fight to be the last ones standing, with the winning team receiving amazing rewards!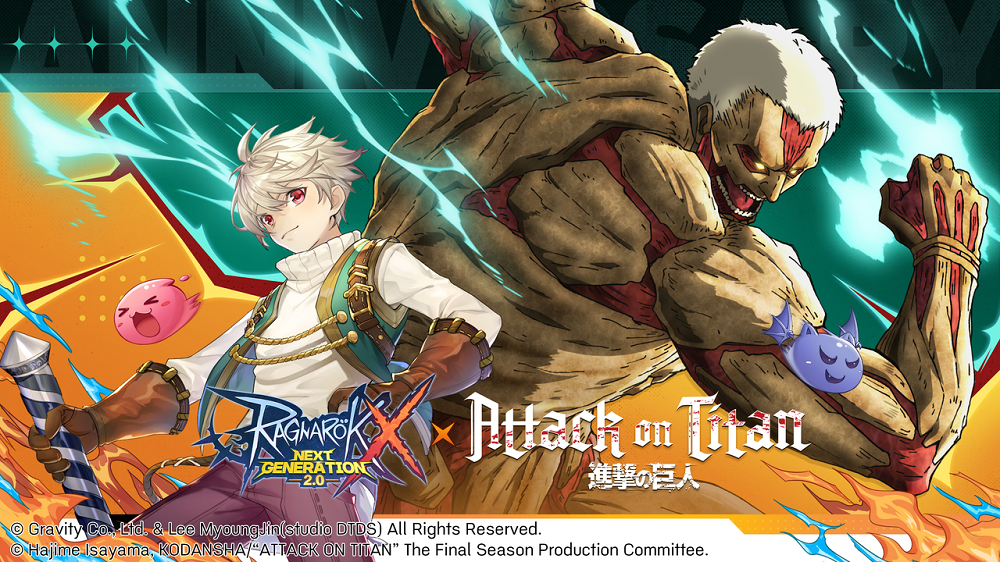 As always with these collaboration events, players can also expect to see special collaboration accessories in the form of costumes, mounts, and pets. For costumes, players can take on the role of the prodigious Captain Levi with the「Levi Cleaning Face Covering」and「Levi Cleaning Bandana」based on the character's iconic appearance, as well as the「Training Corps Uniform」 「Survey Corps Uniform」and「3D Maneuver Gear」. Adventurers can ride into battle atop the「Cart Titan」, or summon the「Colossal Titan」pet to tag along next to your adventurer, or even give a helping hand in battle!
Last but not least, express your respect and appreciation for your fellow adventurers with the iconic「Sacrifice Heart」emote from Attack on Titan.「Sacrifice Heart」is a new social action – act it out with pride! Gather your friends in your finest Survey Corps cosplay for a photo at Prontera's fountain and make this an unforgettable memory for all!
Visit the Anniversary Pre-Registration Page for a look at the event's PV and Poster, along with plenty of in-depth information regarding the collaboration.