Elements
, the vibrant, go-anywhere adventure of a sister and brother fulfilling their destiny from developer 
Wreckit Games
 and legendary publisher 
Apogee Entertainment
, massively surpasses its Kickstarter funding goals ahead of a Steam Early Access release in Q2 2024, followed by PC 1.0, PlayStation 5|4, Xbox Series X|S, Xbox One, and Nintendo Switch launches in 2025. With Elements' Kickstarter closing on Friday, March 3rd at 6:00 PM PST, potential backers still have a few days to get involved.
Wreckit Games and Apogee Entertainment cast a fruitful crowdfunding spell with a gorgeous, free-form RPG adventure, renowned voice talent Patricia Summersett (Rainbow Six: Siege – Ash, Assassin's Creed: Syndicate – Galina, The Legend of Zelda: Breath of the Wild – Zelda), and a yet-unnamed world-famous screenwriter. Elements soared past multiple monetary milestones, conjuring up more than $140,000, achieving 100% of its crowdfunding goal in 12 hours and reaching 957% funding overall.
An elemental storm of cosmic proportions descends upon Earth, threatening to end all life as we know it. The fate of humanity rests in the hands of sister-brother duo Nyah and Beckett. These  two soon-to-be heroes embark on an interdimensional journey to the realm of Elemythia to find the eight Legendary Stones of power in hopes of ridding the planet of Elemental Chaos.
Set out on a solo journey, or adventure as siblings hand-in-hand via couch co-op or Steam Remote play. Explore the corners of another universe across eight different biomes, each containing their own story, weather, enemies and distinct resources to gather. Begin the hunt for the Legendary Stones–made of Earth, Water, Fire, Air, Ice, Nature, Light, and Dark–and harness the power of each stone's attributes along the way.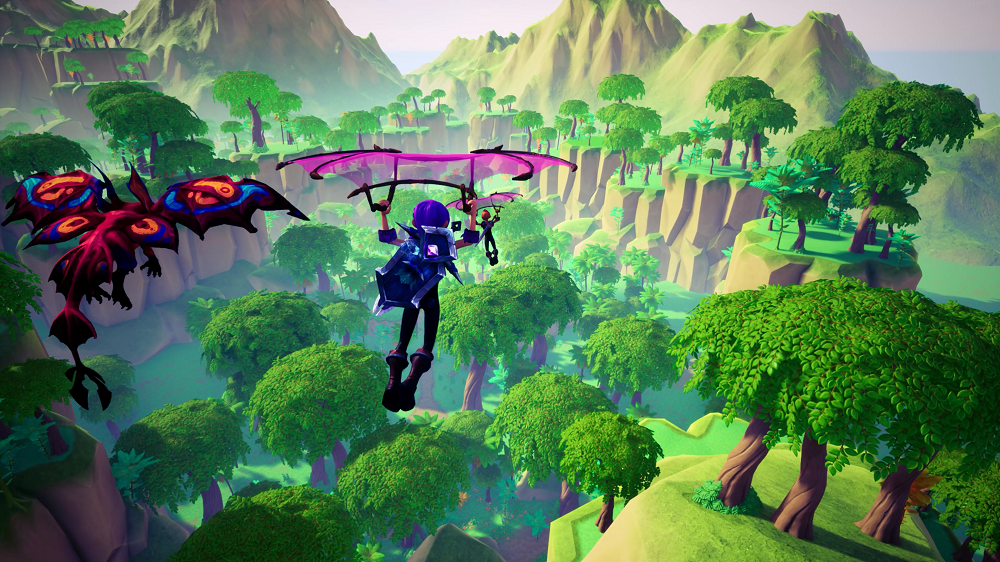 Craft and customize gear with various elemental combinations to find the optimal build for each ecosystem. With various combat types to choose from, become a master of stealth swordsmanship, brute-force wizardry or anything in between while wielding an arsenal of 11 different weapon classes. Combo and parry a path forward while facing giant wolves, menacing ogres, and fiery golems obstructing the journey ahead.
With such a wondrous quest ahead, survival will require shelter. Build a homestead to store valuable loot, and craft portals between dwellings for fast travel across the ever-expansive land of Elemythia. Collect seeds, plant crops and cultivate animals unique to the local area to bolster resources and provide temporary stat boosts during epic jaunts into the unknown.
Mount epic beasts and ride from village to village solving puzzles and side quests along the way. Interact with friendly (and not-so-friendly) mysterious creatures on your path towards the guardians protecting each Legendary Stone in a tale inspired by classic action RPGs.
"Elements is a deeply personal project for me. I've always dreamed of a massive co-op adventure I could play with my kids, and the support we've received to make that dream a reality is very humbling," said Devon Parsons, founder of Wreckit Games. "While we have reached beyond our wildest funding goals, there is still time to join in on this amazing project and add your voice to the development process. This is only the tip of the iceberg, and we hope to share the journey with even more backers during the final week of crowdfunding. We can't wait to reveal more of what we have in store."
Elements
' 
Kickstarter
 ends Friday, March 3, 2023 at 6:00 PM PST, and begins its voyage towards Steam Early Access in 2024. The full 1.0 release comes to Steam for PC in Q2 2025, and arrive on PlayStation 5|4, Xbox Series X|S, Xbox One, Nintendo Switch in Q4 2025.