Fish Game, a cozy aquarium simulator developed by A Shell in the Pit Games (with audio credits in Untitled Goose Game, Five Nights at Freddy's: Security Breach, Rogue Legacy and more), along with Creative Ink and development partner Smarter Every Day, makes a splash on PC via Steam Early Access today.
Dive into the de-fin-itive home aquarium simulator handcrafted by fish enthusiasts for fish enthusiasts, while remaining accessible to all sim fans. Get your feet wet right away with an intuitive tank creation interface to create and populate simple fish tanks, intricate aquascapes, and everything in between.
Sculpt substrate to form sandy peaks and valleys, place an array of plant life, and drop in hardscape materials such as rocks, driftwood, and statues to design dreamlike aquariums. Beyond building, you must also balance and maintain your growing collection of life and the–perhaps-unexpectedly–complex relationships therein.
Fish Game focuses on chill vibes, surprisingly in-depth fish behavior, and curating tanks to taste. All fish, plants, and tank elements exist in an economy-free system that encourages organic creativity. Simply visit a store, grab what you like, and add it to your tank. No cash, no stress.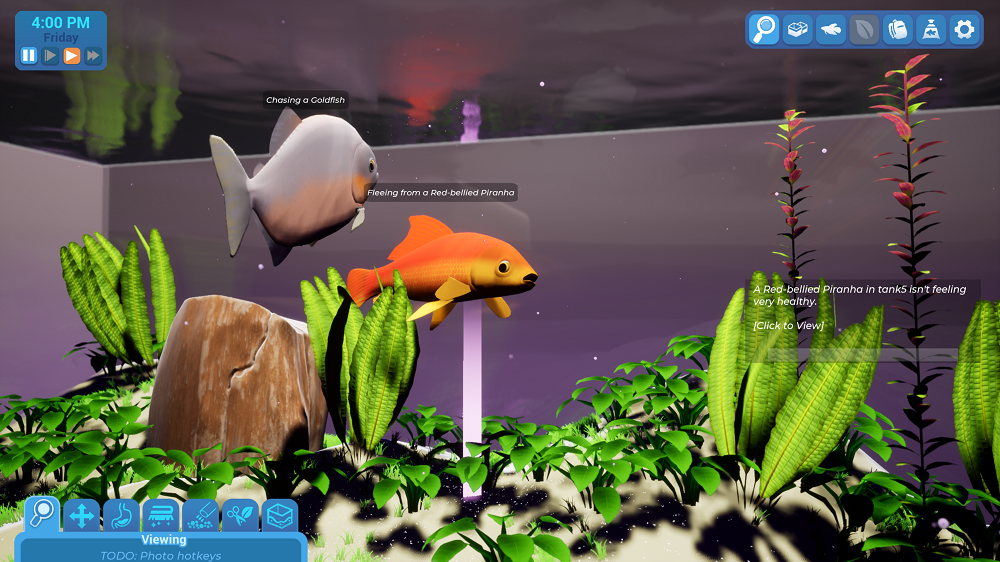 Name and tame dozens of friendly (and not-so-friendly) fish species with their own personalities and needs, from harmless guppies to preying piranhas. Keep an eye on the hunger, health, and stress levels of sea creatures to create an underwater utopia, tweaking to meet their shifting needs as fish grow. Witness dynamic relationships evolve between fishy friends and foes based on their surroundings and tankmates.
Fish Game was built from the tank up to be the most robust, enjoyable home aquarium game ever made. Adjust the complexity to your comfort level — vibe with "Passive Mode" for a simplified aquatic experience, or get granular by tweaking every aspect of the ecosystem. Nurture a happy biosphere and make sure marine life doesn't go belly-up by managing multiple forms of maintenance.
Scrub the tank squeaky clean for improved light levels, then hand-trim thriving greenery before plant growth encroaches on swim space. Keep an eye on algae levels, oxygen, ammonia, carbon dioxide, and (further into Early Access) pH balance and temperature, all of which can affect fish and plant health. Running out of room? Create multiple tanks anywhere from 10 to 1000+ gallons, each with its own aesthetic and occupants.
Capture every fin-tastic moment in stills and videos in Photo Mode, and turn TVs into full-sized fish tanks with Big Picture Mode. With a blend of calming music and gill-geous backgrounds, create highly detailed aquariums in a relaxing adventure where the world is your oyster.
"I've always wanted to create a game that captures the feeling of fishkeeping that isn't just a 'live decoration,'" said creator Gordon McGladdery, "These animals have personalities and hierarchies, interesting behaviours and individualism. They are complex and fascinating systems. You get to know your pets and care about them."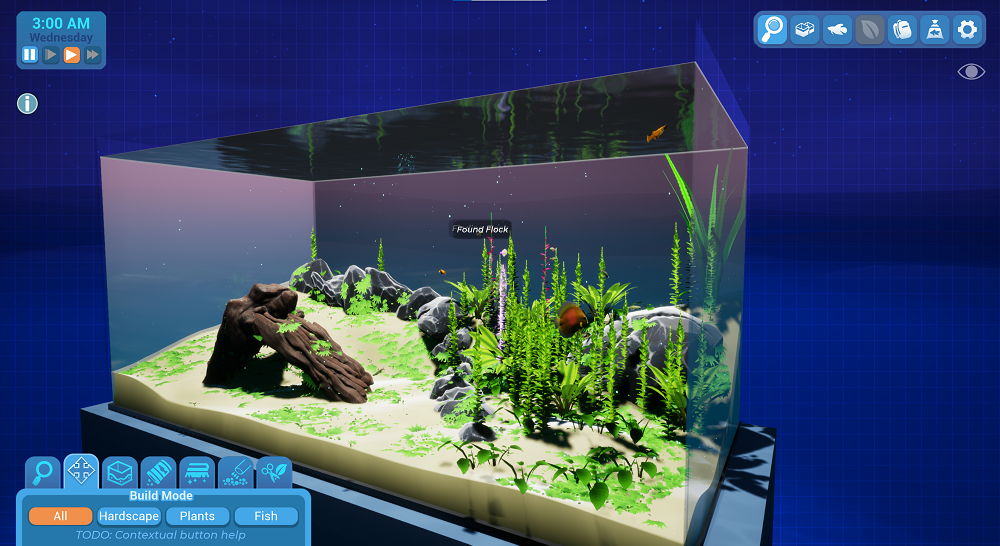 Fish Game swims onto PC via Steam Early Access today. Follow A Shell in the Pit Games on Steam, Twitter, Instagram, and Tiktok for more updates!
About A Shell in the Pit Games
A Shell in the Pit Games is the new game development wing of A Shell in the Pit, an employee-first, no-crunch studio in Vancouver, BC. A Shell in the Pit has contributed music, SFX and audio system work to over 50 titles including Untitled Goose Game, Rogue Legacy, Night in the Woods, Wandersong, FNAF, and many more. A Shell in the Pit has also produced over 100 game trailers.